Paper Recycling made easier, quicker, eco-friendlier
DIY machine turns used paper to new in minutes
Amid growing concern over the environment and sustainability, innovation can help companies save money and be more eco-friendly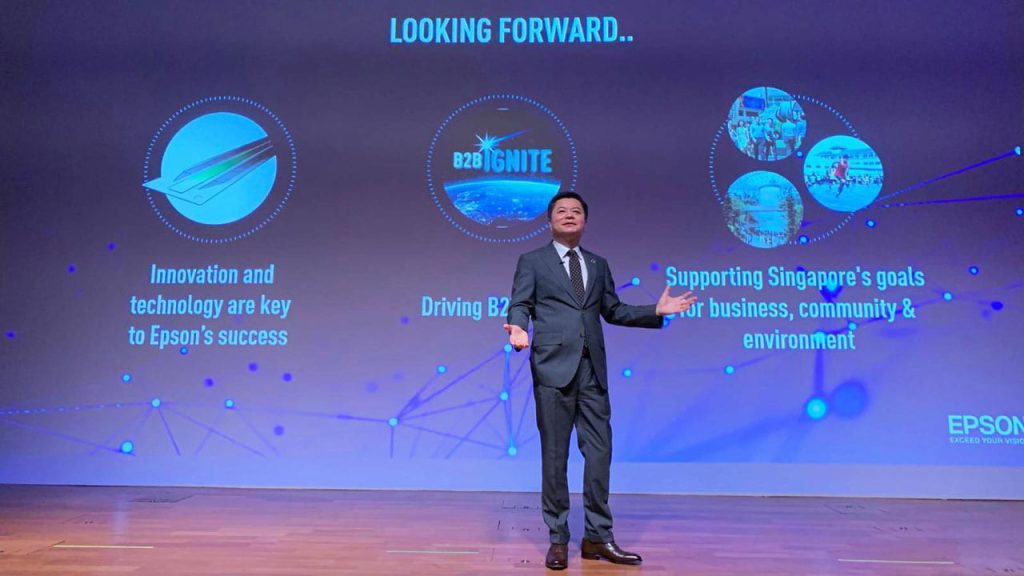 Traditional recycling requires manual sorting of used paper and involves cost to transport the paper to a plant where large amounts of water and energy are used in the recycling process.
Here's an idea: Simply feed your used paper into a machine and presto! You have new paper within 3 minutes. The technology — an in-house paper recycling machine — now exists and it will soon be made available and affordable to offices everywhere.
PaperLab, invented by printing giant Epson, is a dry process papermaking system that is about the size of two ATMs.
The world's first paper recycling machine for offices is one of several solutions that will help companies be more eco-friendly and cost efficient (see other story).
Instead of putting employees through the hassle of sorting out piles of waste paper, which would otherwise be collected by recycling companies and turned into new paper using tons of water in a recycling facility, the paper could simply be fed into PaperLab.
In minutes, new paper is generated for fresh use. The process is faster, less complex and drier. That the machine doesn't even need water is a major "green" plus. PaperLab is used in Japan and is not yet available for off-the-shelf purchase. But it soon will be.
Epson Singapore's Regional Managing Director Munenori Ando, 57, said: "Ultimately we're working towards making PaperLab much smaller and more affordable."
He was speaking at Epson's inaugural B2B Ignite event on Oct 4, a showcase of unique solutions to help companies reduce their carbon footprint. About 100 businesses were introduced to eco-friendly innovations at the event at National Gallery Singapore.
As the effects of climate change become a clear and present danger, sustainability has quickly become a priority.
Responsible businesses are striving to reduce energy consumption and help mitigate global warming by burning less fuel and lowering carbon dioxide emissions.
Greener products
Epson, founded in Japan in 1942, is not only going green in-house but is committed to inventing greener products for other companies.
Companies like EIS Business System would benefit from solutions such as PaperLab. The printing company, which has about 70 employees, uses lots of paper. The employees painstakingly remove staples and sort used paper into coloured and blackand-white piles before it gets picked up by a recycling company.
But cost is a factor. "If research and development creates a version of PaperLab that is smaller and more affordable, we will get it," said EIS Business System's director Justin Ho. "In an office, it might become as common as a paper shredder or photocopier."
Epson's Bold Thrust Towards B2B
Epson is known for its home printers and scanners.
But the Japanese electronics giant has been increasingly focusing its research and development efforts on innovative solutions for businesses, from small and medium enterprises (SMEs) to multinational corporations.
The SME space is particularly important to Epson because SMEs make up 99 per cent of the company's business customers in Singapore and South-east Asia.
Not only can Epson's products for businesses handle large volumes of work, such as printing thousands of pages at one go, but they are also economical and energy efficient.
Epson Singapore's regional managing director Munenori Ando said at B2B Ignite 2019: "We aim to empower local businesses with the right tools to tackle the next steps towards being a sustainable business."
The four-day event at National Gallery showcased these tools, which included printers for both paper and textile, and visual technologies like projectors and robotics.
More efficient
Ultimately, Epson wants to help businesses switch from laser and analogue printing to more ecofriendly inkjet printing and from lamp projectors to laser projectors, and to automate manual processes in manufacturing with industrial robotics.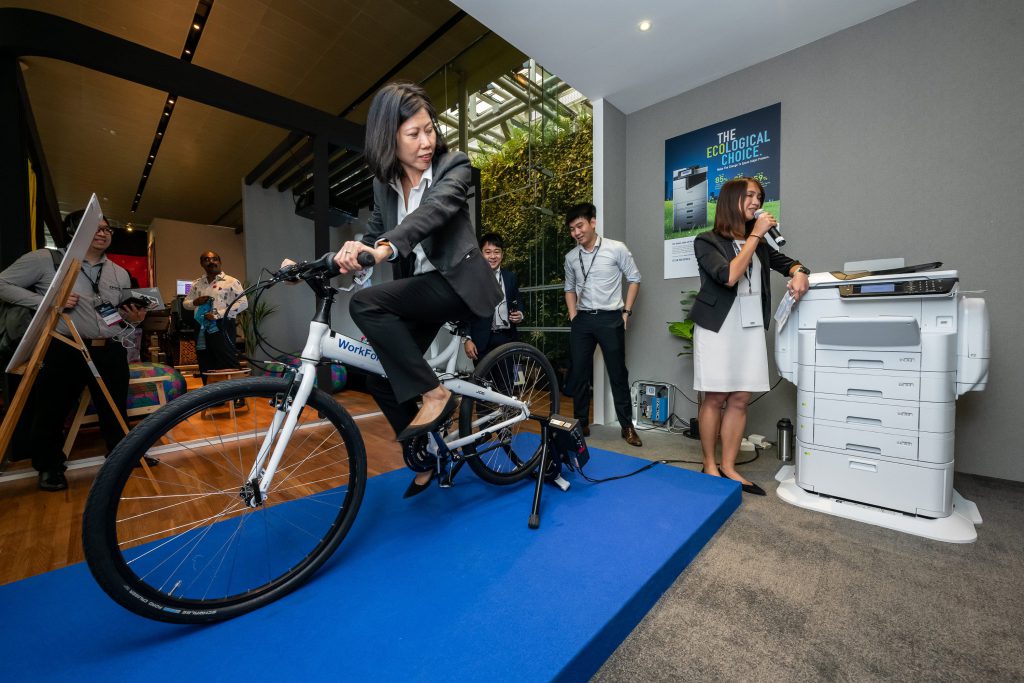 B2B Ignite 2019 was attended by Epson's resellers in Singapore as well as end-users looking for solutions to their own office needs.
Other than championing sustainable products for businesses, Epson also does its part as a good corporate citizen by supporting the community.
The company has adopted Lakeside Family Services for over three years with Epson employees dedicated to organising activities for the charity's beneficiaries and sponsored programmes for youth. Epson has also provided sports opportunities to Lakeside youth through football clinics.
More Solutions Few Excuses
The push towards using lower energy and water consumption is gaining momentum. Among the innovations unveiled at the B2B Ignite 2019,  two can help to:
Save energy
Epson's new heat-free inkjet printer, Epson WorkForce Enterprise WFC20590, uses 85 per cent less energy and emits 85 per cent less carbon dioxide than a laser printer.
It also requires 59 per cent less replacement of parts, cutting down on waste.
Make textile printing greener
Epson's line of digital textile solutions has revolutionised the water-intensive, chemical-pollutive methods in the current textile industry.
The solutions help to reduce water consumption by 60 per cent, and chemical usage and power consumption by 55 per cent. It also shortens production time drastically and allows for customisation of designs compared to conventional methods of printing.
Fashion designers like the Philippines' John Herrera and others from around the region have even collaborated with Epson to produce their fashion collections, all printed by Epson solutions.
But Companies need more time…
Adopting greener solutions makes business sense for companies as they often lead to lower electricity or water bills. Companies are also increasingly being scrutinised for how eco-friendly they are.
But some companies say they need time to be sustainable. Mindsets need to change and processes need to be updated.
Bits and Bytes Marketing's senior sales and marketing manager Samuel Lee (left) said: "It won't be immediate. Even when it comes to buying green products, companies have to wait for their old machines to stop working before they replace it.
"But what is critical is information and awareness. As long as they know a reasonably-priced green product exists, they will choose it when the time is right." EIS Business System's director Justin Ho said: "When you talk about sustainability, it's quite a big challenge for small and medium businesses. It takes a lot of effort and training, administrative organisation and logistics. You also need enforcement because humans by nature like to be lazy.
"There are also no direct returns. In the end, we are just driven by belief, that we are doing our part in making the world a slightly better place." What makes their Earth-saving efforts a little easier are products that are ecofriendly.
For instance, Mr Ho's company uses two of Epson's energy-efficient printers. As printing is estimated to constitute 10 per cent of an office's energy consumption, the two printers, whose energy consumption is just a fraction of that of regular laser printers, is an easy nod to sustainability.
"Sustainability has become one of the benchmarks used to assess the business performance of a corporation," said Epson Singapore's regional managing director Munenori Ando. "People are no longer just looking at economic performance, but how a business helps to conserve the environment and how good it is as a citizen."
Source: The Straits Times © Singapore Press Holdings Limited. Reprinted with permission.