Epson on pace to be first Japanese manufacturer to transition to renewable electricity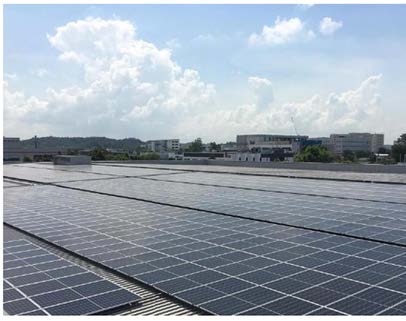 With the transition 93% now complete, the Epson Group has its sights set on meeting its 100%renewable electricity goal in 2023
In March 2021, Epson committed to switching to 100% renewable electricity at all Epson Group sites worldwide. In November 2021,Epson became the first Japanese manufacturer to convert to 100%renewable electricity (530 GWh annually) at all its domestic sites.
On September 1, 2023, Singapore Epson Industrial Pte. Ltd. (SEP), an Epson Group manufacturing company, completed the switch to100% renewable electricity. With this, the Epson Group now sources 93% of the electricity it uses from renewables.
SEP has been generating electricity since January 2022 with solar panels at a facility that provides plating and other surface finishing services. The supply of renewable energy in Singapore is limited due to the scarcity of available space. So, in response to the announcement of the Epson Group's 100% renewable electricity policy, SEP decided to enter into an onsite PPA at another of its facilities. Under this agreement, a solar power generation system was installed on the rooftop of a factory, making this facility the 14th in the Epson Group to have rooftop solar. Approximately 25 GWh of the electricity annually consumed by SEP will be from a combination of electricity generated onsite and the use of renewable energy certificates in neighboring countries. While SEP cannot meet the RE100's expectation of locally produced electricity, it will adopt the best options currently available.
In addition to utilizing renewable electricity for its own operations, Epson has been actively promoting the adoption of region-specific renewable energy sources. In Japan, for example, we have been supporting the Shinshu Green Electricity Project in Nagano Prefecture, which focuses on the development of local renewable energy sources. In Indonesia, meanwhile, we are assisting the implementation of sustainable biomass power generation using palm kernel shells (PKS), a waste product from palm oil production. To reach our goal of meeting the entire Epson Group's annual electricity needs (approximately 876 GWh in2022) with 100% renewable electricity, the remaining facilities(including a manufacturing site in Malaysia and sales sites) will aim to switch to renewable electricity in 2023.