Epson Enterprise WF-C21000 Printers Tackle Climate Change Alongside Bodindecha (Sing Singhaseni) School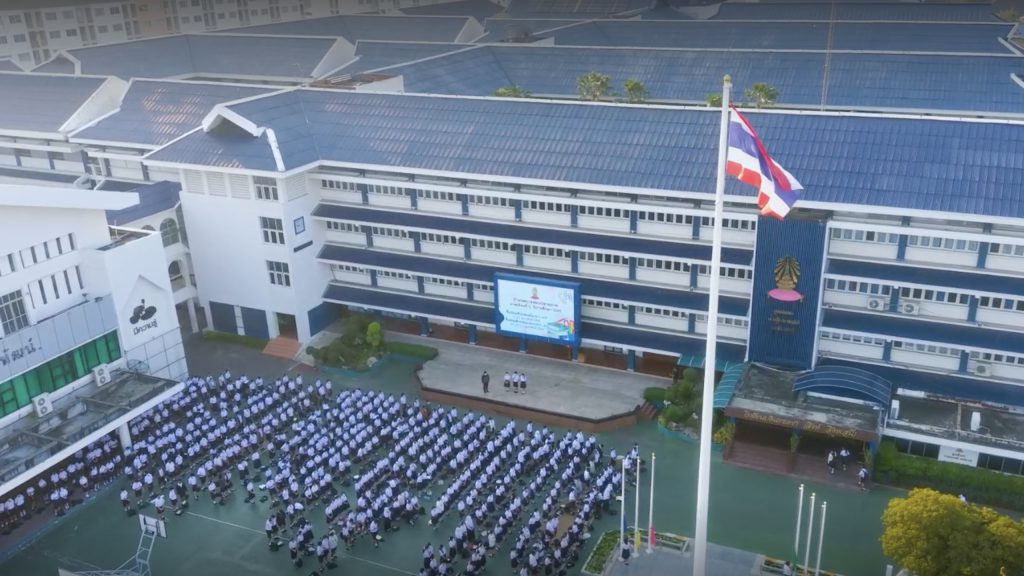 In recent years, Thailand has faced more frequent and intense natural disasters such as floods, droughts, and tropical storms, which have been attributed to the effects of climate change. To address this issue, in 2021, the Thai government pledged to reduce greenhouse gas emissions by 20-25 per cent by 2030 under the Paris Agreement, an international treaty on climate change adopted by 196 parties at the UN Climate Change Conference in 2015. It aims to hold the increase in global average temperatures to 2 degrees Celsius while limiting temperature increase to 1.5 degrees Celsius above pre-industrial levels.
Many sectors, including energy, transport, and agriculture have made it their mission to address and slow down climate change by taking action to reduce their carbon footprint and promote sustainability. However, the education sector can also play an important role in tackling climate change. For Bodindecha (Sing Singhaseni) School in Bangkok, Thailand, reducing their carbon footprint is one of their main goals, and they pride themselves on instilling sustainability values in their students. Bodindecha is a secondary school established in 1971 and schools over 4,000 students while employing 240 staff members.
In November 2022, Bodindecha acquired a unit of Epson's WorkForce Enterprise WF-C21000 printer to benefit from Epson's Heat-Free PrecisionCore Technology. Epson's Heat-Free inkjet printers have a lower environmental impact than traditional laser printers that use heat to fuse ink onto paper, and use up to 85% less energy[1]. This helps the school lower their energy consumption and reduce their electricity bills at the same time.
Mr Somporn Sangwara, Director of Bodindecha (Sing Singhaseni) School said, "Bodindecha School decided to procure Epson's WorkForce Enterprise WF-C21000 printers for school-wide adoption and use after comparing printers from various brands. We currently have a WorkForce Enterprise WF-C21000 printer installed in our department offices and classrooms. We found that the Epson printer not only provided the best value for our money, but also has a lower environmental impact than other printers due to their Heat-Free Technology. We also appreciate the advanced software solution compatibility that allows seamless integration into our existing IT infrastructure, reducing the hassle of new setups."
The Epson WorkForce Enterprise WF-C21000 is a powerful and efficient inkjet workhorse that features high-speed performance and superior image quality with significant sustainability advantages over laser models. The WorkForce Enterprise WF-C21000 delivers superior image quality at print speeds of up to 100ppm and a fast first copy out time (FCOT) of 4.9 seconds, a super-high ink yield that allows users to print up to 100,000 pages in mono or 50,000 in colour without changing the ink supplies. This implies that user intervention is reduced, leading to increased productivity. Moreover, since the printer requires fewer consumables and supplies, it produces less waste. Most importantly, Epson's Heat-Free technology requires no heat to warm up when it is switched on or awoken from sleep, resulting in a reduction in energy consumption and electricity bills. This also means that the overall environmental impact of printing is cut significantly.
The printer also comes fitted with advanced software solution compatibility, which allows the ease of integration into existing IT infrastructures and improves systemic efficiency. Epson's new Epson Remote Services (ERS) also offers cloud-based device monitoring and management system that delivers advanced remote diagnostics for Epson business products.
The Bodindecha (Sing Singhaseni) School currently uses the WorkForce Enterprise WF-C21000 printer to print school assignments, worksheets, and tests for over 4,000 students in a sustainable, eco-friendly way. Besides adopting Epson's WorkForce Enterprise WF-C21000 printers, the school has also implemented additional sustainability initiatives to educate its students on the importance of maintaining sustainable practices. For instance, the waste bins at the school are colour-coded and separated into categories to facilitate waste disposal. The school also has a waste bank where students can trade the waste they have collected for volunteer hours or credit for each school team. Additionally, waste such as leaves are collected at the school to be further processed into organic fertilisers and delivered to the Bangkok Metropolitan Administration where it is further used to fertilise plants at public parks. In the school canteen, food waste and grease are segregated, and food scraps are fed to fish to ensure circularity in waste management.
The school is also committed to participating in the Zero Waste School Project, an activity proposed by the Ministry of Natural Resources and Environment, where the spirit of sustainable environmental practices is supported by the school. As part of the project, campaigns are enacted to encourage lower water and electricity consumption. To further lower the school's power consumption and environmental footprint, Bodindecha School has also installed solar panels to reduce greenhouse gas emissions, air pollution, and conservation of finite natural resources.
Overall, Epson's WorkForce Enterprise WF-C21000 printer is helping Bodindecha School to achieve sustainability in stride with its other sustainability initiatives. By using energy-efficient printers, Bondindecha can not only reduce its carbon footprint while saving money on electricity bills but also instils a sense of sustainability within the school community that prioritises the long-term well-being of the planet.
As demonstrated, schools can play a vital role in addressing the impending issues posed by climate change.  By making conscious choices and taking action to reduce environmental impact, promote sustainable practices, and preserve natural resources, schools can contribute to a more sustainable future for Thailand and the world.
[1] https://www.epson.com.sg/heat-free/
---
You may contact us below for more information or to request for product demonstration about Epson Enterprise WF-C21000.