Epson's Innovative Technology Enables Sustainable Textile Printing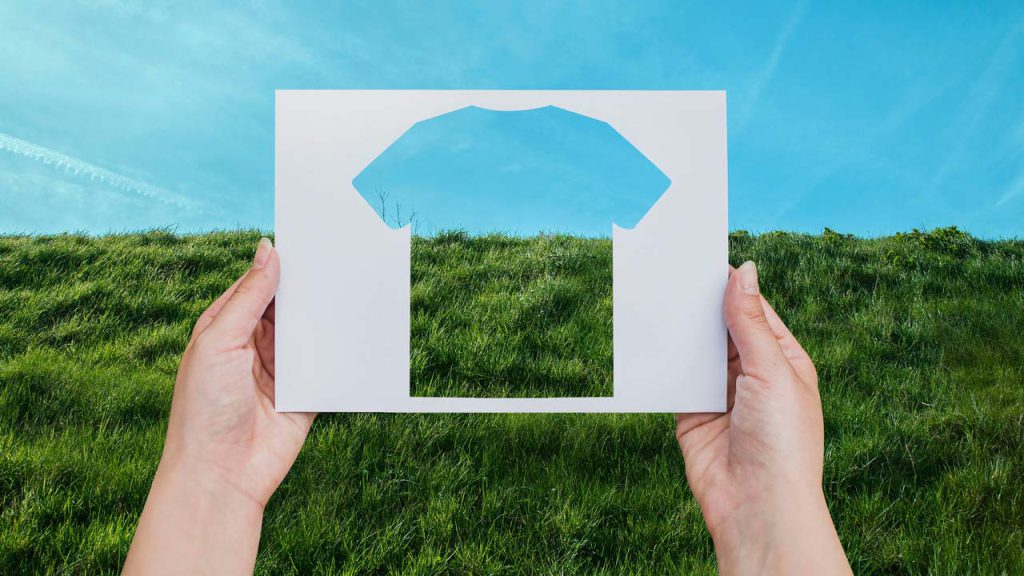 In today's market, everyone is seeking practices that consume less water, less energy, and help protect our planet's resources. The textile industry is huge and produces a great deal of material, so it stands to reason that environmental sustainability has become top of mind. As people around the world become increasingly dependent on clothes, blankets, and other garments, industries are seeking more environmentally friendly production methods.
According to a recent Measuring Fashion report, greenhouse gas production in the global apparel industry alone is expected to equal entire production in the US in under two decades. Other research suggests that nearly 15% of all fabric intended for clothing is discarded. Changing consumer demands in the fashion and home décor industries are creating the need for more customisation, shorter run lengths, and faster turnaround times. Many of today's apparel companies are turning to digital textile printing processes to drive sustainable production, speed time to market, and increase customisation.
Digital printing can reduce the number of production steps by half. With dry heat fixation processes like dye sublimation, these steps can be reduced even further. More importantly, digital can reduce water consumption by as much as 90% per m2, decrease energy consumption by about 37%, and lower CO2 emissions by approximately 25%[1].
Epson is committed to improving the sustainability standards within the textile industry. In addition to supporting today's businesses, Epson is creating a vision for the workflow of the future.
Faster Production
The fabric and garment manufacturing industries are some of the most fast-paced environments in the world, but consumers are still demanding ever-faster turnaround times. The supply chain has shrunk as a result, and businesses are responding in kind.
TMI selected Epson's SureColor SC-F9330[2] dye sublimation digital textile printer with a vision to grow its factory in a modern, sustainable, and innovative way. The Epson printer was selected over competitive models for its colour consistency, output quality, and printing speeds, and has helped in TMI's digital transformation and plan to revolutionise the industry.
Preserving Quality
Many textile mills may still have reservations about digital printing because they believe that certain machines can't deliver consistent quality on the enterprise level. This concern kept Sairung Printing Industry Ltd. (SRP), a Thai garment manufacturer, dependent on analogue technology for decades, but the company eventually came to understand the impact of digital printing in the fashion industry.
SRP ultimately invested in Epson's SureColor SC-F7170[3] Sublimation Printer, which has helped in growing its production capacity and transformed the business. The company also benefited from the wide variety of Epson UltraChrome DS high-quality inks, including a high capacity refillable ink system that enables continuous printing.
Upgrading with the Epson Monna Lisa Printer Line
Epson continues to expand and improve its digital direct-to-fabric textile printing line, most recently the introduction of its Monna Lisa Evo Tre 64. The device, which is released together with a new line of Genesta pigment inks, uses Epson PrecisionCore printhead technology and provides a complete solution for on-demand sample printing all the way up to industrial scale production. The Monna Lisa Evo Tre 64 is also available with Genesta reactive, disperse, acid, and pigment inks to cover the full spectrum of fabric requirements and reduce its impact on the environment.
Epson's full Monna Lisa product line includes the Evo Tre 8 (an entry-level model), the Evo Tre 16 (a 16 printhead digital textile printer capable of handling 8 colours), and the Evo Tre 32 (a higher-end model that delivers professional quality at high speeds for the industrial textile market).
The Monna Lisa line is designed to work with the latest inks, including PG2, a pigment ink that does not require a post-printing process when applied to fabrics with the Pregen PCC pre-treatment and among the most eco-friendly inks available. In addition, it meets ISO standards of dry and wet abrasion resistance. At every stage, Epson is clearly prioritising sustainability without compromising speed or quality.
Pakistan-based Sarena Textile Industries recently purchased a Monna Lisa Evo Tre 32. The textile manufacturing company produces anywhere from 10,000 to 50,000 metres per day, and the Monna Lisa device enables the firm to produce high-quality printed fabric at speeds up to 402 sq m/hr.
The Bottom Line
As supply chain and end user demands continue to evolve, today's businesses must adapt. It's time for brands and producers to get smarter about how they structure and enforce their workflows to meet the evolving supply chain. Although environmental responsibility is not the only factor impacting the textile industry at large, it is undoubtably one of the most serious.
With many recent and planned developments, Epson stands ready to deliver more eco-friendly and sustainable products to power fabric creation in the future. However, completely sustainable manufacturing will require automation of the design, workflow process, digital printing, and final cut and sew operations. Epson is able to support its customers with high-quality sublimation transfer and direct-to-fabric printing solutions. The possibilities for fabric and application are limited only by the imagination.
[1] Source: http://press.miroglio.com/en/comunicato/evolution-miroglio-texile-new-choice-smarter-printing
[2] Note: This model has been discontinued. Its successor is the SureColor SC-F9430.
[3] Note: This model has been discontinued. Its successor is the SureColor SC-F7270.