The Future Of Textile Printing Is Digital – The Success Of TMI Garment Manufacturer In Vietnam (Case Study)
Garment manufacturing today is one of the most competitive and fast-paced businesses in the world. With shorter fashion cycles and the trend of fast fashion, the speed of producing and delivering the garment to customers have become more critical than ever.
Mr YY Chen, owner and Managing Director of Tung Mung International (TMI), recognized that the biggest factor influencing customer behaviour in today's market is speed. "We view the market as a fast changing and fast paced environment," he says. "Customers now go online to shop. Price is less important to them than choice – what they value is a constantly changing choice of styles, colours and fabrics in the garments they buy.  And for us as manufacturers, this means speed."
The speed of producing the finished garment involves many factors including procurement cycles, the textile dyeing and printing process and the production process which includes the sewing of the garment.
Mr Chen joined his family business, TMI in 2001. From a small garment manufacturing plant established by Mr Chen's father in Singapore with just 160 workers, Mr Chen has spearheaded the company's expansion to Malaysia, Indonesia, China, Cambodia and Vietnam.
Today, TMI has scaled up to be a world-class garment manufacturer with 11 factories in 3 countries producing over 3.5 million pieces of clothing per month, supporting many large fashion houses from high end luxury goods to renowned sports brands as customers. As an industry leader, TMI aims to set new standards of innovation and sustainability in his factories, and to be at the cutting edge of technology in textile manufacturing.
To meet the challenge of the evolving global market, Mr Chen set about transforming TMI's culture, which was grounded in the long-established traditions of the textile business. He needed first to overcome resistance within the company to the introduction and implementation of new technology.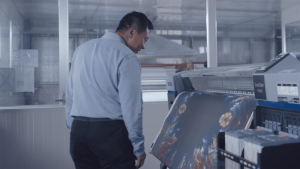 Some three to four years ago, Mr Chen introduced digital textile printing to his factory. "The digital printing process takes only a few hours," he says. "We can now ship a garment in 30 or even 15 days. The customer can get his new shirt in just two months from order – and we are also able to ship entirely customised products to order, as we don't have to create films."
In comparison, the traditional garment printing process alone could take up to 30 days depending on the type of printing process and colour of the garment. For direct fabric printing, the process includes preparing the printing screens and printing the different layers of colours, before preparing and cutting the fabric for shipment. After consolidation of the order, it could be three months before the customer is able to receive the delivery.
To deliver the advantages of digital printing to TMI's six factories in Vietnam, which operate under the Elite brand, Mr Chen chose Epson's SureColor SC-F9330 digital textile printer.
This next-generation high-volume dye sublimation digital textile printer is designed for high-volume high-speed production printing for clothing, textiles and soft signage, as well as other printed merchandise.
The printer's speed – at least 28 percent better than its predecessor model – is exactly what TMI needs to meet its delivery schedule of more than 3 million pieces of clothing per season.
TMI manufactures for high-end customers that use exclusive fabrics and lamination as well as for leading sportswear companies.
The SureColor F-series printers' dual PrecisionCore printheads and original ink tank system deliver superior print quality at speeds of over 100m²/h.
Mr Chen was confident in his choice of Epson printing technology, based firstly on his positive familiarity with the brand, going back to his home printer during his student days. It was important that the printer enabled him to control the little details in terms of colour consistency that contributed to a higher quality output, to distinguish their offerings to customers.
"I first saw the F-series at a trade show in China," says Mr Chen. "The demo convinced me that the Epson printers had a much better colour consistency and output quality than the other brands we were using, so we took a leap of faith to choose Epson – that was probably the best decision we made. We also received excellent support from Epson in addressing the initial operating challenges after installation," he said.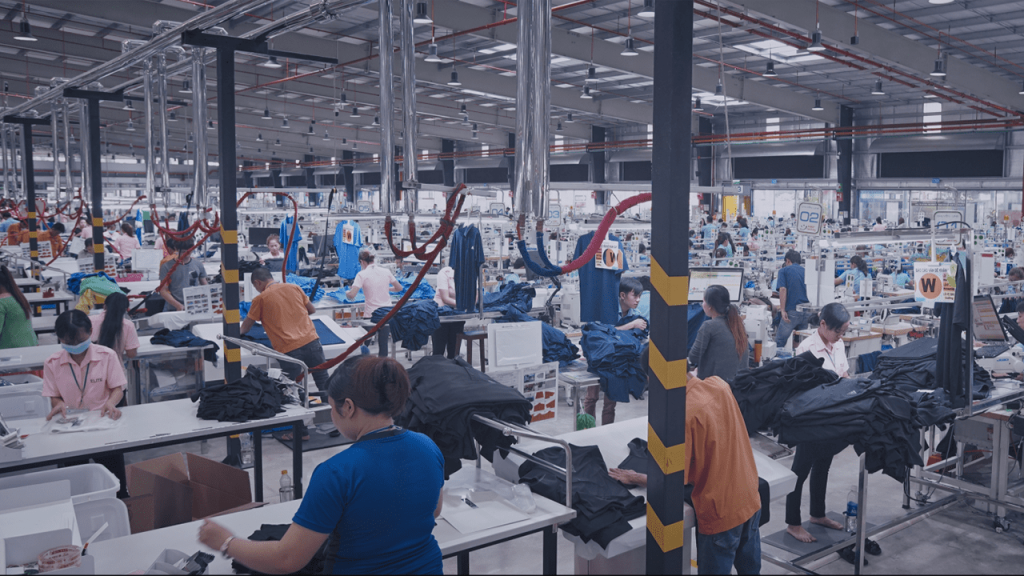 Since introducing digital printing, TMI now has better visibility on the types of fabrics and processes that the digital process can handle, which enables them to better meet their customers' requirements.
According to Mr Chen, the conversion to digital has helped TMI increase the overall capabilities that they can offer to their customers. These include personalisation, smaller order size, and shorter time to market.
"Digital printing allows us to ship in the shortest possible time frame, enabling the apparel to get to the stores and consumers wardrobes in a much shorter time," says Mr Chen. "That will improve our manufacturing efficiency and help us achieve our vision – to set standards in innovation and to be the best garment manufacturer in the industry. There is so much potential in this technology and we can only wonder what it will bring to the industry in future."
"Indeed, with the advancement of the digital age, we all need to adapt to new technologies to create new innovations such as the customised product. There is no doubt – the future of printing is digital," he added.