The Current Digital Technology Space Where Does Photo Printing Fit In?
In today's ever-changing technology space, many have wondered about how the advent of digital would affect the photo printing market. Digital cameras have become ubiquitous, even as the functionality of mobile phone cameras has increased dramatically and social media platforms improve their photo sharing capabilities. Would all of these concurrent developments mark the end of photo printing? Although these changes have had a substantial impact on retail photo processing centres, there is still room for photo print providers to grow. According to Keypoint Intelligence's most recent Value of Print Forecast, roughly 24.3 million square meters of photos will be printed on a global basis by 2023.
Armed with the knowledge that people are taking more pictures than ever before, savvy photo print businesses can build new application opportunities that help even novice photographers showcase their efforts. Whether you are running an online web-to-print facility, working in a professional lab, or printing your photographs in-studio, the ability to provide a wide array of applications is critical to your business success. Image quality, speed of delivery, and profitability are also of paramount importance. Photo prints and photo merchandise products (e.g., photo books and canvas prints) can enable professional photographers and photo labs to generate additional revenue streams. These products also represent an important opportunity for photographers to showcase their work with printed products that are often prominently displayed in their clients' homes or businesses. Regardless of whether they are full- or part-time, a considerable number of professionals are taking advantage of this opportunity by leveraging their own printers as well as outside photo print service providers to further expand their offerings.
Retail spaces are declining due to the shift to digital, so online shopping capabilities are becoming more and more important for photographers and photo print providers. Until recently, the workflows for online businesses were complicated and required significant investments in website builds, customised software, other costly procedures. Things have since changed—photo printing cart systems are easy to set up and can be quickly customised in-house to accommodate the needs of the print provider. In addition, the devices in today's marketplace can handle a large variety of applications, allowing for versatility and profitability. For those who might not be sure which printer vendor to rely on, it's nice to know that Epson photo printers are the most widely used photo printers in the world by far. According to Keypoint Intelligence's professional photography research, Epson dominates all other printer manufacturers in terms of market share. Furthermore, the most popular printer widths in 2019 were 44" and 17".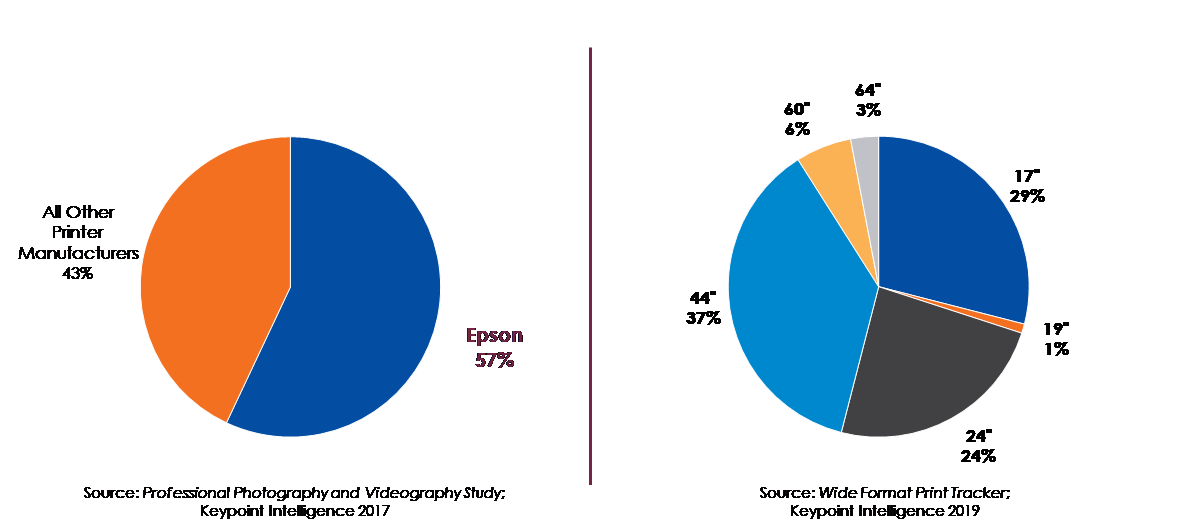 Epson's SC-P6000-9000 Printers
Epson's SC-P6000-9000 family of printers are designed to meet the needs of today's photo print providers. They offer efficient workflow solutions, exceptional image quality, and high-capacity ink systems, and professional media handling capabilities.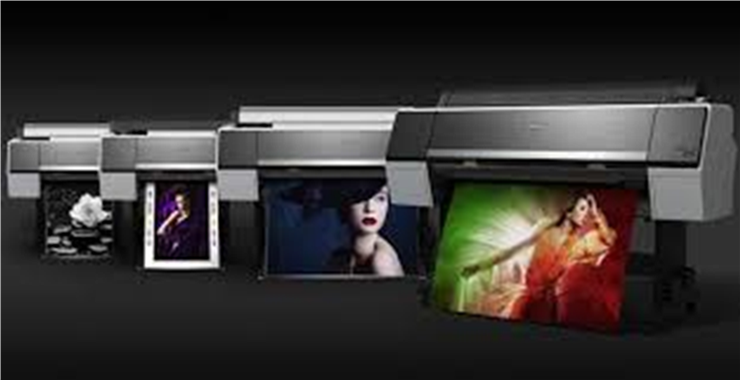 Efficient Workflow Solutions
For photo print providers that are running multiple devices, Epson's Colour Calibration Utility tool measures colour density and concentration across your printer network from a central point. This conserves valuable time that might otherwise be spent on calibration. Once a base printer is set as the standard, the other printers can calibrate to a colour chart that is transferred from that base printer. Calibrated data can be used for different media types and print modes, and is stored locally on each printer.
Exceptional Image Quality
Epson's SC-P6000/P8000 printers are equipped with the eight-colour UltraChrome® HD ink set, while the SC-P7000/P9000 series incorporates a reformulated Epson UltraChrome® HDX 10-colour ink set. Both professional ink sets deliver outstanding colours, improved black density for substantial improvements in contrast, and higher D-Max value. Microcrystal Encapsulation™ technology provides superior gloss uniformity.
Epson's UltraChrome® pigment inks use a three-level black ink technology (black, light black and light light black) to enable excellent black density, grey balance, smooth gradation, and sharp definition. The UltraChrome® HDX and HD matte and photo black inks achieve a much higher pigment density, ensuring that the pigments do not penetrate too deeply when printing on third-party media.
The Ultrachrome® HDX ink set in the SC-P7000/P9000 series with violet ink can achieve a wider colour gamut, thereby providing the ultimate proofing solution. This wider colour gamut makes it possible to hit spot and client-specific colours accurately, enabling the achievement of 99% max certified PANTONE coverage. Users also have the option to use light light black instead of violet ink for high-end photographic and fine art applications. This ink configuration makes it possible to achieve superior print quality for both colour and monochrome reproductions.
Intelligent High-Capacity Ink System
Epson's UltraChrome® ink comes in reduced-size cartridges with a range of capacities (700ml/350ml/110ml) that can be mixed and matched within the printers. In addition, the Epson print engine makes it possible for cartridges be replaced on-the-fly, allowing for uninterrupted printing.
Professional Media Handling
The Epson P-series is compatible with virtually any media type, be it roll or cut sheet, up to 24 or 44 inches wide. It enables accurate loading of a variety of cut-sheet media types up to 1.5 mm thick posterboard. All media is front-loaded via a unique straight-through media path. A printer and driver-based media identification and synchronisation system provides virtually error-free media use.
Some might have expected the advent of digital to accelerate the demise of photo printing, but this has not proven to be the case. Photo printing is alive and well, and photo print service providers can capitalise on the fact that consumers are taking more photos today than they ever have in the past. Moving forward, amateur and professional photographers will continue to require the expertise of service providers and photo labs, even in today's digital age.