Sairung Printing Industry In Thailand – The Fabric Of Two Generations: From Analogue To Digital Textile Printing
Thailand's textile industry landscape
Thailand is one of the world's leaders in the supply of the total textile industry chain.
From the production of natural and synthetic fibers, to the weaving of yarn into fabric and textiles, to the processes of finishing, dyeing and printing, and eventually into the production of garments of every kind on both OEM and ODM basis – including high fashion apparel – Thailand excels at every stage.
Globally, fashion is a highly competitive industry, where trends change rapidly and customers demand the latest styles, regularly refreshed and at a high value. One of the crucial factors required for brands to succeed in such a challenging market is the creativity of the designers – and this means providing them with a wide choice of innovative, colourful, high quality printed fabric.
Thailand is recognized as one of the largest suppliers of printed fabric to the world's apparel manufacturing industry. This stage in the textile value chain is represented by Thai businesses at every level, from hand-crafted cottage industry production up to large-scale printing operations.
About Sairung Printing Industry Ltd. (SRP)
One of the country's most respected printing firms is SRP Digital & Sublimation Print, part of "Sairung Printing Industry Ltd." Founded by Mr.Sommot Thanhikam, the family business has thrived over the decades through building a solid base of loyal customers. These are mostly OEM garment factories who supply local brands as well as famous international brands such as Sabina, Wacoal, Morgan, Itokin, Guy Laroche, Daily Sport and more.
"We used analogue printing technology for more than 30 years," says Mr. Sommot, who now holds the position of President, SRP Digital & Sublimation Print. "We had met our customers' requirements with our screen print system, and it was hard for me to see that there was really a need for change. I believed most of our customers didn't need digital printing."
A new generation of ideas
Mr. Thanhikam's son, Werawat, had different ideas. He could see that digital printing was changing the fashion world, and to keep their position in the marketplace the company's existing customers needed to face new challenges and explore new opportunities. "I knew we had to support our customers and match up to these changing trends," says Mr. Werawat.
Mr. Werawat persuaded his father to look into the potential of a digital printing system, and recommended the firm to consider Epson's digital printing solutions. "At first, I was worried about our customers," says Mr. Sommot, "but I was also excited to see what Epson digital printers could do.
"And I must say, I was amazed. Our company has built its reputation on quality rather than price, and I've found Epson's digital print quality exceptional. I knew I would not need to worry about our customers' reaction.
"The system also allows us to give designers the creative freedom they need to develop exciting and attractive designs that will meet the market demand of innovation." he added.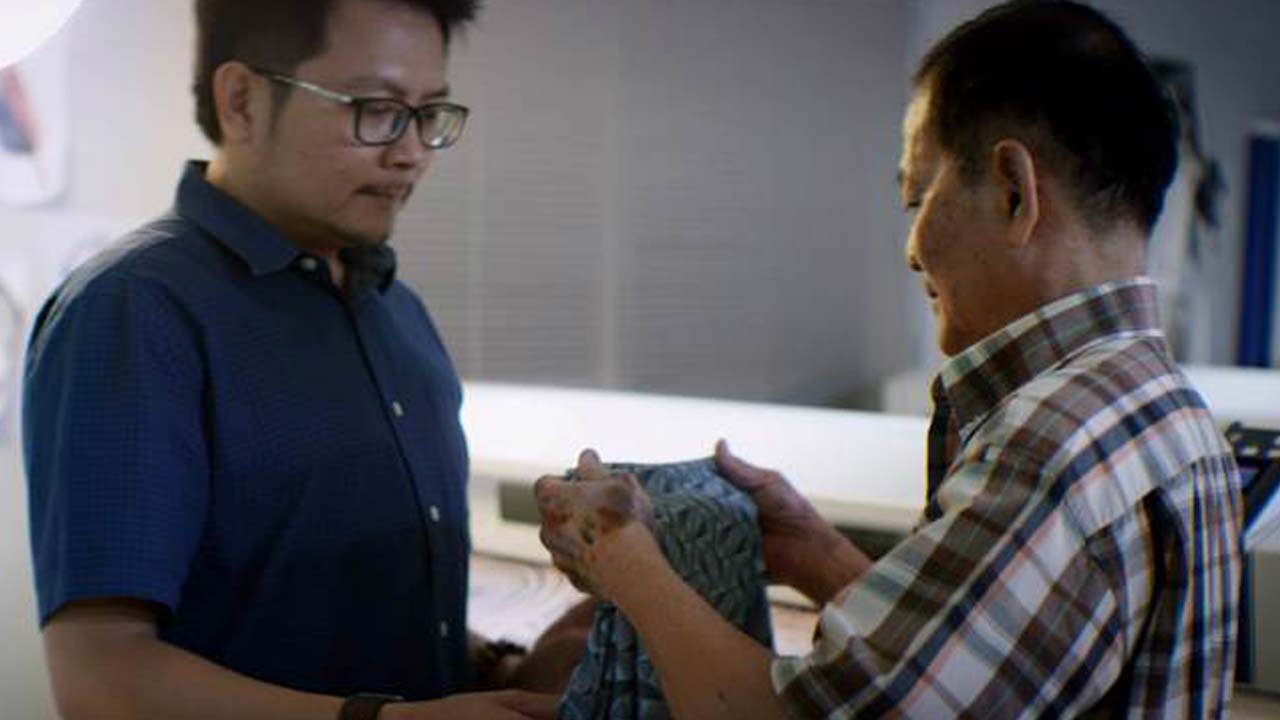 Epson SureColor F7170 – The game changer
After careful research, SRP decided to invest in the Epson SureColor F7170 Printer for sublimation printing and ink. With photographic print quality boasting resolutions up to 720 x1440 dpi, and with outstanding everyday production speeds of up to 634 SFPH, SRP Thailand was able to impress their customers with quality that meet their demands.
The printer's high reliability meant it could run 24/7, which allowed SRP to meet the changing and growing requirements, as well as turnaround speeds needed from their customers.
"Besides the output quality of the system, we were attracted by Epson Thailand's ability to supply not only the hardware but the wide variety of inks that we need. Inks are a crucial element of the digital production process, and we gained confidence, knowing that Epson's inks are created to work perfectly with their printing machines.
"It was also important for us to know that Epson Thailand's service team is able to provide maintenance and spare parts when needed – limiting the potential for machine downtime. "
SRP implemented their Epson digital printing solution in 2014. The physical installation at SRP's facility took only a couple of weeks and after a training and familiarization process of a few weeks, the system was up and running. The digital department at SRP now numbers 20 staffs.
"With the benefit of Epson's digital printing system, we have been able to expand our market, since we are now able to print on polyester," says Mr. Werawat. "We are pleased with the return on our investment. As well as meeting the requirements of our existing customer base, we are happy to have won new clients."
"The SureColor F7170, joining the complete line of SureColor F-Series printers, leverages the Epson PrecisionCore TFP printhead and Epson UltraChrome DS ink system to deliver high-quality printing, superior dot control, precise and repeatable performance, and excellent longevity for a range of dye-sublimation applications. The SureColor F7170 also features a high-capacity ink tank system with refillable tanks to allow continuous printing through a full roll of media, as well as a new post-platen heater for faster drying times. Therefore, it enables digital textile producers to increase productivity, minimize downtime and maximize profitability," said
Mr. Yunyong Muneemongkoltorn, General Manager of Epson Thailand.
"So we are glad to be part of SRP's journey and to provide the necessary technology to enable a new generation of ideas, and more importantly, to play an instrumental role in sustaining SRP Thailand's textile business," he said.