Printing Realism With Kristupa Saragih
We spoke to a series of professional photographers to find out how they create the best prints and what inspires their work.
"Your existence as a photographer is proven when you get your work printed for an exhibition."
Kristupa's passion for photography has led him to pursue a successful personal career and also to set up fotografer.net. With 539,000 registered members, it's the biggest online photographic community in Southeast Asia.
We caught up with him recently to discuss what he feels is the best way to showcase his work. He says he is motivated to print because it creates a bigger impact for viewers than the screen.
"With a print, you can examine the details better and dig deeper into the emotion. Even the biggest computer monitor has its size limitations, while with a print you can go as large as you want.'
As founder of a fast-growing community, Kristupa observes that his members love to have their work admired. "Every time fotografer.net organises a photo exhibition," he says, "people show how much they care about their work by submitting it in print."
He highlights that he does his best to influence the community and encourages them to find better ways to showcase their photographs. 
"Keeping their work in the computer doesn't make them better photographers. I always encourage people to publish their work on a bigger scale and get others to appreciate their work.'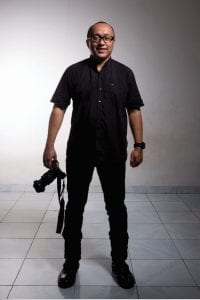 Kristupa revealed that he actually began photographing when he was in high school. "It started as an extra-curricular activity. I was also recruited as a reporter for a national magazine while studying, which urged me to practice photography seriously for single-person assignments."
As a reporter, he told us he enjoyed covering music and lifestyle and always looked forward to seeing his work in print – especially when the magazine put his work on the cover. He then found himself assigned more frequently to motorsport events such as motocross championships, rallying and 4×4 off-road championships.
He admits he was proud to have won prizes in photo competitions, which helped him get started as a semi-professional while still in university.
While he enjoyed his first career as an engineer, he gave it up to follow his dream and start a photography business in 2002. His business covers all areas of photography.
He acts as a consultant, seminar & workshop mentor, photo competition organiser, photo trip organiser, social media buzzer, stock photo and photography magazine publisher.
Kristupa feels that his background in nature photography has taught him about decision-making in critical situations, as well as to be objective and result-oriented.
He relishes the fact that his work has many contrasts and features both real life and stylised subjects. For him, photography is a visual way of communication – the content can be anything.
He believes that he was destined to be a photographer. Photography provides "the lens that people can look through and see the world from a different perspective."
He continues, "You've proven yourself as a photographer when you get your work printed for an exhibition."
Kristupa is very particular about the cameras and equipment he uses, and chooses to use Epson as "they understand the photographers' needs."
He especially likes the Epson SureColor SC-P607.
He says, "The colours it is able to deliver match my needs. I can operate it wirelessly from my smartphone and the speed saves me time."
Kristupa sums up how he feels. "A print will always be the most realistic representation of an image, as it is the only medium that is truly tangible and actual. It is ultimately the best way to judge work. An image isn't truly finished until it's in printed form.'