Harnessing The Revolutionary Power Of Direct To Garment Printing With Big Tree Productions
Advances in the technology for digital textile printing has been transforming the garment industry. One of the advances in digital printing for the garment industry is Direct to Garment printing (DTG) – and this technology was recently adopted by BigTree Productions, a digital printing company.
BigTree's journey towards adopting DTG printing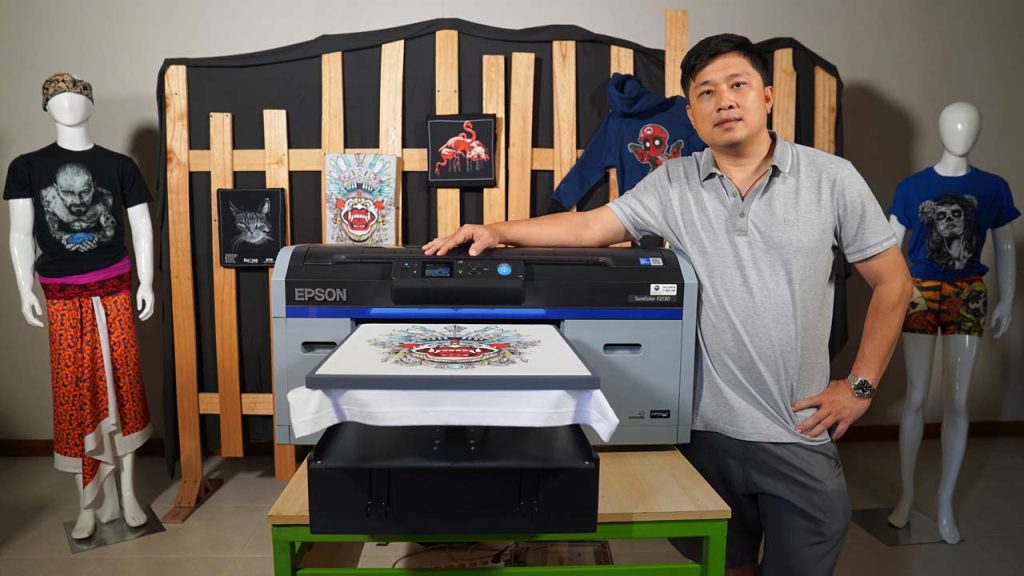 Founded in 2013 and located in Bali, Indonesia, BigTree is a digital printing company whose vision is to be the market leader in the digital printing industry in Bali. The company has around 50 to 100 customers a day that include large international garment factories, schools, materials shops and individual clients.
BigTree bought the Epson F2130 DTG printer in 2018 and uses it mainly to print images on t-shirts. They originally started using modified printers to print their garments but soon ran into trouble.
"When I was using modified printers, I had many problems like bad print quality and inconsistent accuracy. The printer was also difficult to use. When we switched to the Epson printer, the result was satisfying as the print quality was very good!" says Agus Oka Laksana, Owner of BigTree Productions.
When the company first decided to invest in direct to garment printing, they did a lot of research and tested many different brands. He said, "We spent a long time testing the durability of the prints and we were amazed by how much abuse the Epson ones could take."
"We did hard wash cycles, stretch tests and even tested how it reacted under the sunlight. The prints were incredibly tough and retained their quality even under extreme conditions. The Epson printer was the only one that passed our tests and which matched our quality and price requirements," he adds.
Agus also liked the fact that the printer's software made it a breeze to use. "We can easily adjust the print quality by using the simple software," says Agus.
BigTree enjoys the benefits of Epson DTG printing 
With the purchase of their Epson printer, BigTree was soon enjoying the advantages of DTG printing over traditional printing methods. "I think the three main benefits of digital printing are speed, repeatability and fantastic resolution. It's flexible, reliable and easy to use. You just plug in and you're ready to print – it's like a print factory in a box with no minimum orders," Agus said.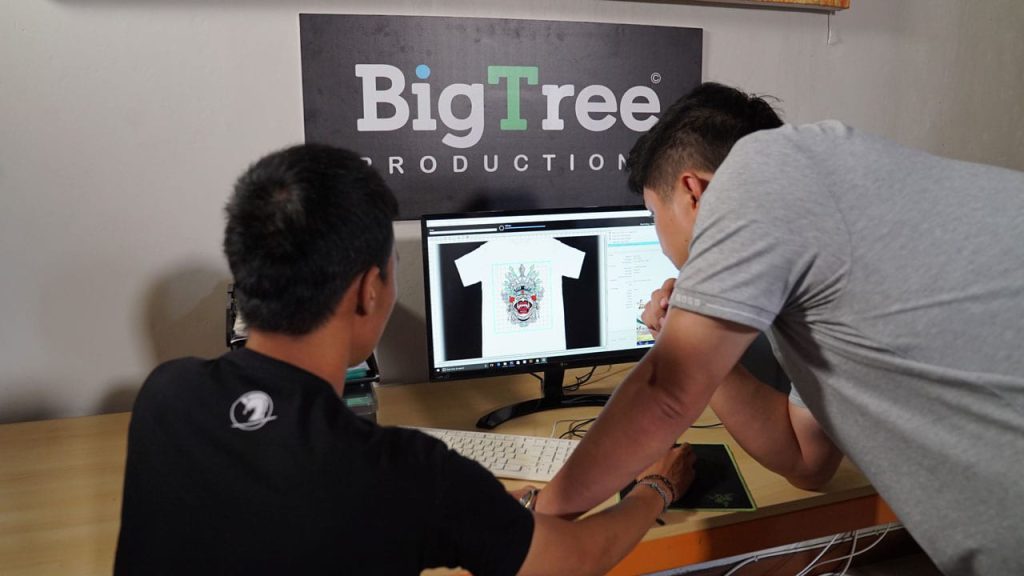 "Our Epson printer delivered much better quality than traditional methods. The colours are rich and vibrant, which is very important for our clients. Our export market is really growing quickly and the Epson DTG technology gives us the ability to deliver the fantastic quality that our clients demand."
The Epson printer also helped BigTree simplify their printing operations. "It's such an easy workflow. We do everything online and once we get the sample approved, we know each item will be identical no matter how many we produce. This has given us the confidence to provide big global brands with their products."
Another advantage that DTG printing has is that there are no minimum quantities. "We can create any number of custom designs or samples without the high setup costs of traditional printing methods," Agus says.
Epson inks that are perfect for the job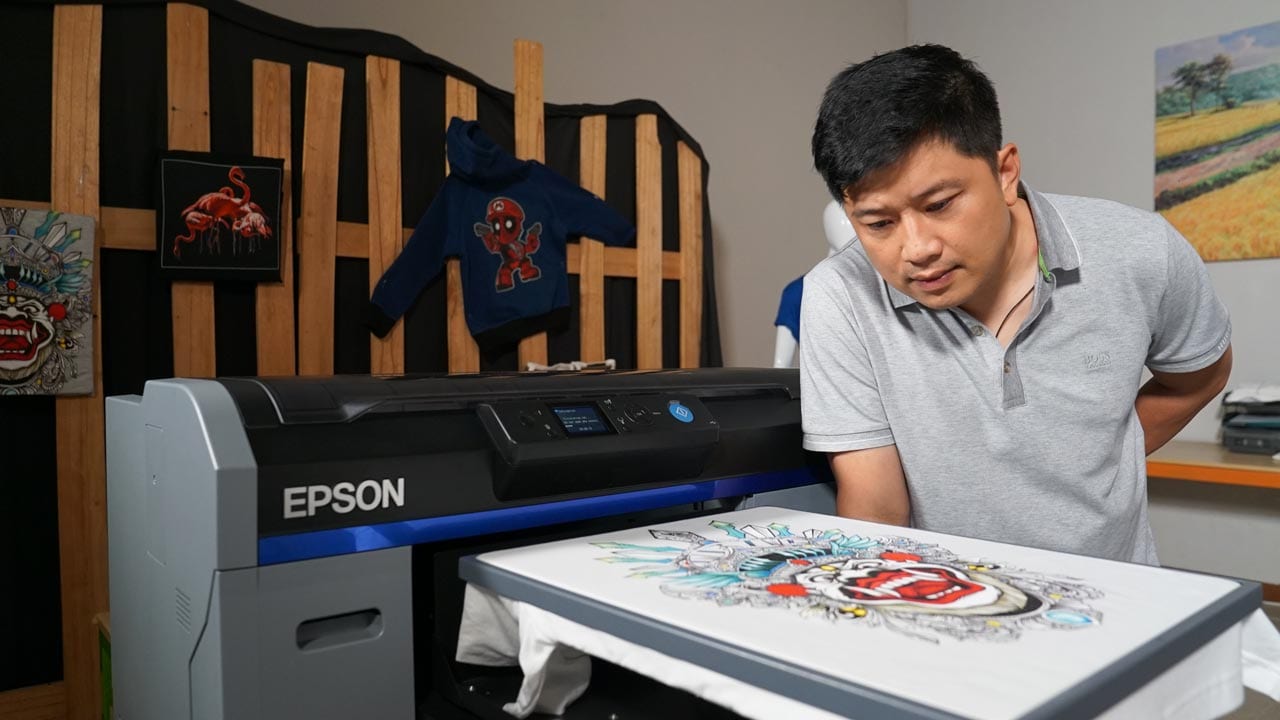 Agus highlights that they only use Epson UltraChrome inks as they are durable and produce exceptionally accurate vibrant colours. He said, "The inks have a good smooth to dark graduated colour gamut and it comes with the Oeko-Tex standard." The international Oeko-Tex standard ensures that health and safety requirements are met.
Going Green
DTG printing has helped BigTree in their efforts towards preserving the environment. DTG printing uses very low power and water consumption compared to conventional printing. Also, it uses significantly less ink and minimises wastage compared to screen printing, which can produce quite a lot of chemical waste.
Digital printing is set to go big in the future
Agus' business has benefitted considerably from using the Epson printer. "Our customers are happy as we can achieve the quality they require and they feel comfortable knowing that we are using proven technology from a well-respected company like Epson," he adds.
BigTree is betting on digital printing to propel its business to new heights. "Digital printing is the future and Direct to Garment printing is going to be a massive market as technology improves. Going forward, BigTree is going to be at the forefront of this digital revolution. We will embrace the needs of our clients, adopt new technology and continue to be the market leader in the digital garment industry," he said.