Getting Smart About Packaging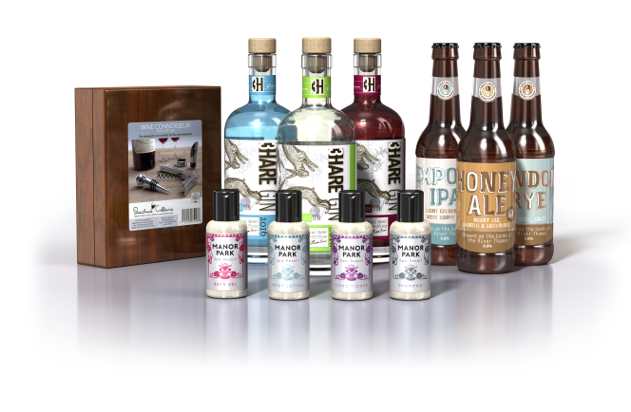 Label Packaging Printed by Epson
Industry 4.0 is a hot topic among manufacturers, with attention focused mainly on the application of Industrial Internet of Things (IIoT) to advanced factory automation for discrete manufacturing. The promise to producers is of lower costs through reduced inventory and lower energy usage, improvements in quality control and productivity, and the insights management can gain from the greater availability of more accurate information.
Although the processes of batch manufacturing differ in fundamental ways from the exact precision required by discrete manufacturers, Industry 4.0 concepts definitely offer advantages to the Food and Beverage (F&B) industry, and consumers too will benefit from the application of Smart Factory principles. Smart sensing technology, for example, can be used to improve aspects of the manufacturing process such as food safety and track and trace, as well as improved packaging and new product development.
Rise in innovation – Augmented Reality and Smart Glasses
The ability to trace a food or beverage product's complete history is becoming more important as consumers and authorities are demanding product recalls, when necessary, in ever shorter timeframes. Instances of food poisoning are increasing, partly due to greater consumption of fresh food, and technologies like smart sensors and RFID help to keep the entire supply chain in view.
As food components move from field to table, inventory management becomes a critical aspect of the F&B supply chain. Managing a huge variety of perishable components calls for sophisticated software that keeps products moving fast, with minimal time spent static in a warehouse.
And here is where another innovative technology can come in to play. Augmented reality (AR) is helping logistics managers keep control of stocks, improving process speed, accuracy and efficiency. AR notification and navigation systems with a smart glasses interface help warehouse staff pinpoint the precise location of each item and reduce the number of wrong picks.
For example, ST Electronics has adopted the Epson Moverio smartglasses in a pilot trial for locating of stock in their warehouse that utilises AR navigation systems, helping warehouse staff to pinpoint the precise location of each item and reduce the number of wrong picks.
With the smart glasses headset, workers no longer need to return to the office to get their picklist each time a new order comes in. They can be alerted to new tasks on the go, and are less likely to get lost or make mistakes.
Greater speed and accuracy of stock management means less time in the warehouse and fresher components into the food supply chain – and therefore healthier and happier consumers.
Changing demand and new interactions with customers
It is no secret that the way consumers shop is changing. Increasingly, the customer journey involves online product research before purchase, and studies have shown that as many as 84 percent of shoppers in the US use their smartphones before or during a visit to a store to gather product information – and those who do, convert to buyers at a 40 percent higher rate.
Retailers and manufacturers are therefore under pressure to find ways to interact with the customer at the point of sale, in order to influence the purchase decision. This means smart packaging, labelling and POS collaterals that go beyond the traditional limitations and communicate with consumers on multiple levels.
Smart Labelling and packaging
The relevance of Industry 4.0 to labelling and packaging may not be immediately obvious, but it is the smart sensor technologies which form an integral part of Industry 4.0 in the food and beverage plant that can provide the up-to-date product information – raw materials, sustainability data, allergen information, expiry dates and so on – that smart labels can present directly to the customer.
Smart labelling can also protect against counterfeiting, product tampering and theft, as well as helping to extend the shelf life of fresh produce and reduce waste, of both food and packaging materials.
The key to taking smart labelling and packaging from concept to reality is the digital printing revolution. Driven by both technology trends – speed, format, capability – and market forces such as the demand for shorter runs, customisation, SKU proliferation, JIT production and environmental concerns, digital printing applications are virtually limitless. Labels for every product type, shrink sleeves, folding cartons, tags and shelf talkers can all be printed with high quality and at low cost on a huge variety of substrates, from paper to polyvinyl to metallic foils.
This versatility and rapid changeability has led to the situation today where packaging has become the primary product differentiator when the consumer confronts the vast variety of food and beverage choices on the retail store's shelves.
Even before the product reaches the shelf, digital printed packaging is impacting the whole supply chain, delivering measurable benefits for brand owners.  Through product development, test marketing and manufacturing, to targeted on-demand product promotions, digital printing of labels and packaging is producing higher value and increased revenues.
When it was time to carry out a brand refresh of a popular snack product for example, digital printing was brought into play as early as the prototyping stage. The product team were immediately able to see the realisation of the brand personality and packaging design evolution – The initial design concepts for a range of flavours were printed onto metallic foil, fully mocked up into pouches and filled with product for placement in stores for final real-world, consumer shelf testing.
This brought about a significant saving in time and cost as well as providing the product team with enhanced confidence in the performance of the refreshed product line-up.
Digital printing was also brought to bear in a ground-breaking brand refresh campaign carried out by Coca Cola Israel. When they decided in 2008 to refresh their Sprite soft drink brand, the company decided to involve consumers in the brand campaign in a wholly new way.
For the first time ever, customers were able to design their own product label.
The campaign invited consumers to visit the Refresh Your Sprite website and create a can design complete with branding, barcodes and other information. The result? Submissions were attracted from consumers aged ten to sixty, resulting in more than 100,000 individual can designs.
This example of what is effectively single-unit batch production would be impossible without the ability of digital printing to customise each unit on the production line.
Counterfeit prevention and warehouse management
An important application for smart packaging is in the area of counterfeit prevention.
Potential applications include serialization, smart & secure supply chains, track & trace, e-pedigree and regulatory compliance, authentication, anti-counterfeiting and forensic validation.
Easily printed graphical devices such as barcodes, QR codes and colour tiles are proving to be a plausible alternative to, or complement to RFID. At item level, these are a cost-feasible choice. For anti-counterfeiting purposes, many manufacturers are adopting variable image and content printing. Unique pattern images can be recognized by a digital reader, denying the opportunity for counterfeit products to reach the market.
One product in the food and beverage sector that suffers greatly from counterfeiting is wine. A particular premium Grand Vin from Bordeaux recognised the risk to its reputation and customer relationships, and decided to implement an intensive prevention strategy via smart labels. The aim was for unit level traceability during the bottling process. And the solution was a label that comprised several security features while maintaining the integrity of the traditional Chateau label look.
A discreet QR code provided a logistic ID for each individual bottle, incorporating the ability to track by pallet or package, and readable by various devices including camera, picking tool, web cam or smartphone.
Each label also incorporated a highly secure authenticator from Advanced Track and Trace, a leading player in the security of trade & the fight against illicit commercial flows. This authenticator encodes unit information onto the product, hidden in the graphics, and serves as an unimpeachable guarantee of origin. Additional information was added in micro-text – so small it is invisible to the naked eye and incredibly difficult for counterfeiters to replicate.
The final piece of the security jigsaw is a CRM code. This random but unique and traceable code is part of the brand's customer relationship management outreach, and is also highly effective for promotional purposes. Customers are able to enter the CRM code in a smartphone app, creating a direct connection between consumer and brand.
The net impact of this one digitally printed smart label is 100 percent product authentication, 100 percent traceability and enhanced confidence on the part of buyers in the product's authenticity and quality. It also brought about the opportunity to engage with purchasers of a single bottle and ultimately increased sales.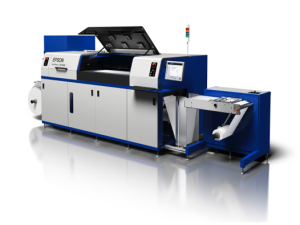 Epson's L-4533AW Digital Label Press
Within Southeast Asia, Epson is also working with manufacturing customers in the region for RFID colour label solutions for packaging that utilises colour coding for easy identification of inventory in place of barcodes. Data is encoded into the RFID label for identification, track and trace purposes or warehouse management, and can also help in counterfeit prevention.
Next Frontier
The next frontier for smart packaging in the food and beverage industry will be the full integration of packaging with IoT.
IoT connected testing equipment will help monitor food quality at every stage of the supply chain, connecting producers, transportation and retailers/hospitality companies. Up-to-date information can be incorporated in smart packaging and labeling – when smart packaging is connected to data analytic software in the cloud, food and beverage products can be scanned to reveal essential information, advising the trade and engaging consumers.
Conventional packaging will continue to help F&B brands stand out from their competitors. However, the trend to smart packaging, with the convenience, economy and versatility of digital printing, will usher in a new era of interactive shopping, building new and stronger relationships between brand and consumer.