Fashion Customisation With Digital Textile Printing
What do consumers want in today's world of fashion? And as a designer, how do you cater to the multitude of fashion preferences and trends? Customisation is the answer, and now thanks to digital textile printing, creating something unique is now possible.
Customisation is one of the 2018 fashion industry's major trends. According to a recent survey by Deloitte, more than 50% of consumers are interested in purchasing customised clothing and other fashion items.
Consumers want choice
The pace of technology and rise of social media is empowering customers. Today, they can create for themselves a personalised shopping experience, giving them the simplicity, convenience, and excitement they desire. They dictate what they want, how, when and where they want it.
As consumers' expectations around cost, choice, convenience and experience continue to increase, they will challenge fashion designers to innovate and customise. To meet these expectations, fashion designers need to incorporate an element of customisation into their products. Customisation is essential to increasing revenue and customer loyalty, and designers therefore need to constantly reinvent themselves.
Design reinvention with digital textile printing
One way that allows fashion creators to innovate and reinvent themselves is through digital technology.
Traditional fashion giants have already been disrupted by the wave of digital technologies that are transforming consumer preferences. At the same time, digitisation has paved the way for innovative designers to grow their market share, while exciting consumers with new and customised pieces and prints.
One company to successfully create a full customer customisation experience is YR Store. Setting up a touchscreen kiosk in London's Topshop store customers can design their own clothing. Selecting from a range of patterns they add them to their clothing of choice – t-shirts, sweatshirts, dresses or vests. They're able to resize the patterns and change the colours. The final design is printed on the Epson F-series – all while the customer is in the shop.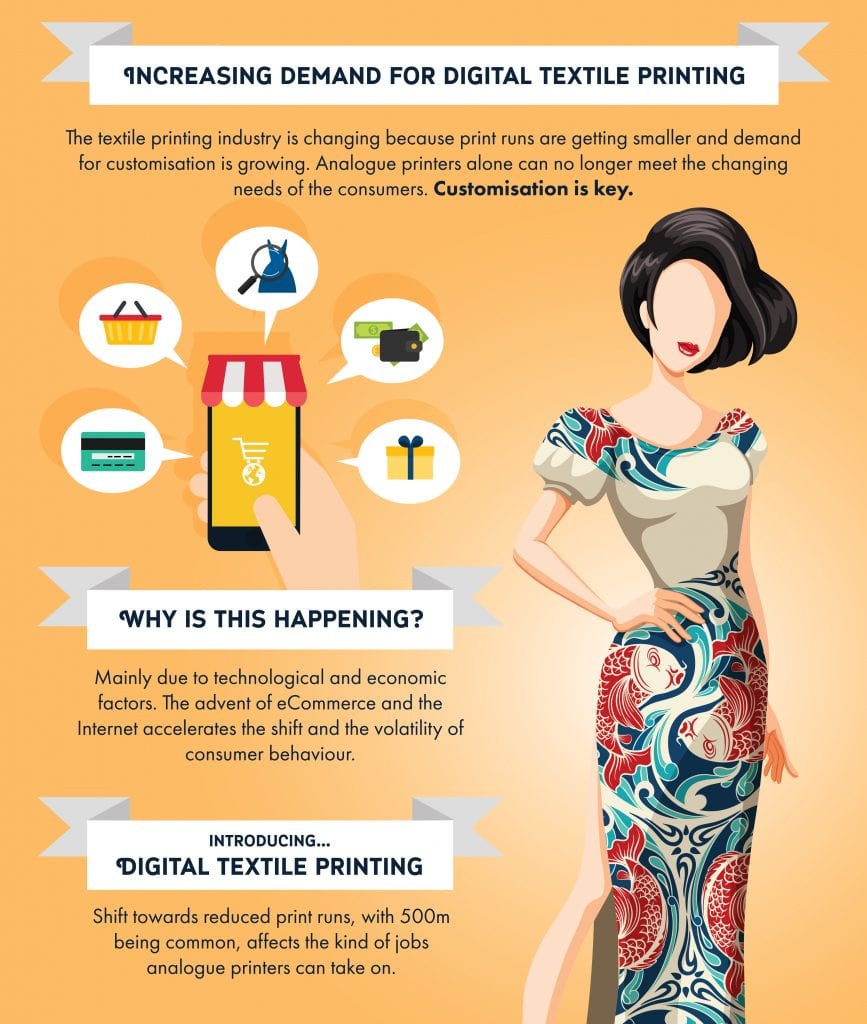 Cost-effective creativity
Advances in digital textile printing enables fashion creators to personalise on a large scale and at a lower cost. At the same time, unlike analogue printing, digital printing allows designers to capture short production run markets. Whether it is a simple or complex graphic design, digital printing offers unlimited opportunities for designers to materialise whatever they imagine with simplified operations.
Fashion houses are now able to schedule production according to customers' needs.  Beyond the ability to offer more customised products and adjust production to demand so as to reduce inventory levels, digital printing increases efficiency while minimising costs and material waste.
Famed British designer Richard Quinn has embraced digital textile printing since he took out the 2017 H&M Design Award. The Richard Quinn Print Studio in London uses the Epson SureColor F-series to keep the entire creative production process – from sketch to catwalk – in the studio. The printer offers Richard a cost effective and simple way to experiment as well as the ability to design a pattern, print it and create an outfit all in a matter of hours.
He's also opened up the doors of his Print Studio to other designers. Powered by digital printing technology he's created an open access and affordable space for established and up and coming designers to learn about digital textile printing techniques and apply them to their creativity.
Finding the right printer
Purchasing a digital printer is a big investment. But if you think about it, you can only deliver quality goods with a quality investment.
And one of the front runners in the digital print industry is Epson's SureColor F-Series. As technology is constantly evolving, smaller fashion houses cannot afford to constantly purchase new equipment. That is why it is crucial to have a future-proof printer.
The idea behind the F-Series is that when designers purchase the printer, it is a one-time investment that can be upgraded in the future with Epson's latest technology. Its simple digital process allows users to print smaller and customised quantities, avoiding waste of time and money. Meanwhile the printers' various features and colours bring almost any print imagined by the designer or customer into reality.
Ultimately, with consumer behaviour constantly changing, fashion companies need to embrace transformation. And offering customised fashion pieces and experiences is a crucial part of this. Including digital printing in the process of customisation helps designers improve efficiency and reduce costs, while offering a personalised experience to fashion customers.