Epson ColorWorks Printers: Help for Growing Businesses, Worldwide!
Finely printed color labels are key tools for businesses of all sizes, throughout Asia and globally. Epson ColorWorks printers are often chosen to print them, especially when the need is for small batches of labels that are printed quickly.
Superlative Foods of Singapore, a manufacturer of organic foods for sale there and internationally, is a good example. According to Founder Angeline Lee, "We make many products, and we do multiple test prints for each." Her staff used to make multiple trips to an outside print shop for the required tests, but now they handle these prints and many others in-house on their own Epson ColorWorks printer, the desktop Colorworks C3510.
Angeline Lee continues, "This device offers us great flexibility to bring new products to our customers at a really fast pace, with great print quality, connectivity, and a very friendly user interface. The Epson printer has enabled us to customise label printing for our customers so we can meet their every need."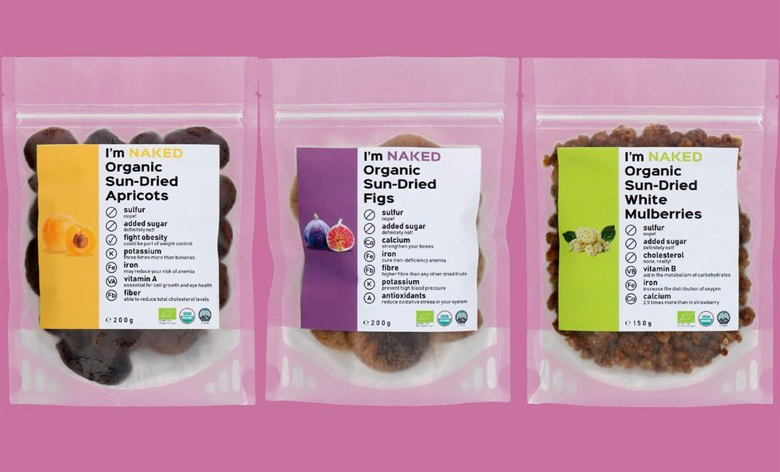 Dried Fruit Labels Printed on Epson ColorWorks Printers by Superlative Foods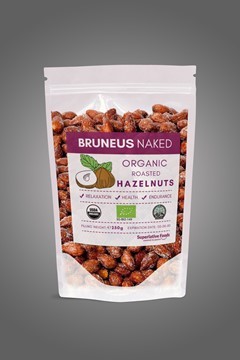 Nut Label from Superlative Foods
The challenges that Superlative Foods must overcome will be recognisable to many businesses. Superlative Foods makes dozens of certified organic snack and food products, often in flexible packaging with a colorful pressure sensitive label applied, for distribution to stores as well as hotel and airline clients. The company must print many short runs for its long list of products and do so promptly. Print must represent Superlative's own brand or the private brand of a key customer, ingredients must be listed as required, and the inks that are used must be food-safe and water/light resistant.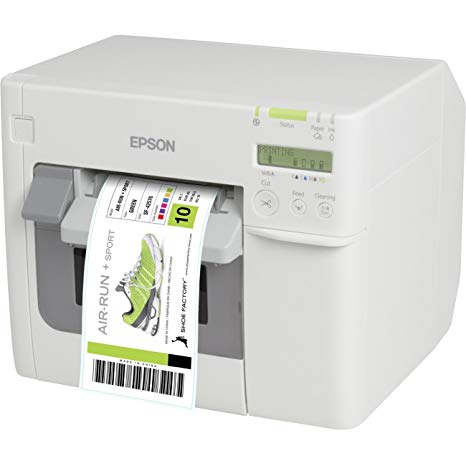 Epson C3510 Label Printer
The Epson C3510 does all of these things for Superlative Foods, enabling the company to easily print its "high mix, low volume" queue of label print jobs as needed. It brings the young company colorful, high resolution labels on demand, eliminating any need for pre-printed labels, as well as timely, creative print. For Superlative Foods, labels meet two other key needs—regulatory compliance and environmental resistance. Lee states, "For us, Epson printers have been a good value for money. We can print different sizes of labels with just one machine…and we only print what we need! Our partnership with Epson has enabled us to better our business and provide better products to our clients."
A Printer for Every Job
The Epson C3510 is part of a now famous line of digital label printers called Epson ColorWorks. Each model prints roll or fanfold, narrow format (4" or 8") pressure-sensitive paper or film label stock in high resolution. The devices use cyan, magenta, yellow, and black (CMYK) pigment inks to yield vibrant, fade-resistant color graphics, as well as precise monochrome text and barcodes. The CMYK inks—Epson DuraBrite inks—enable Epson ColorWorks printers to rival conventional presses with their digital renderings of specified colors.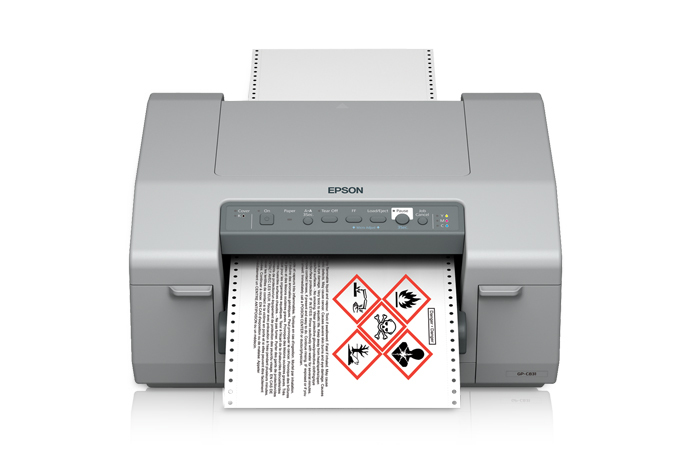 Epson C830, Printing a GHS Label
Epson ColorWorks printers are all tabletop or benchtop size hardware and are trim units that don't take up much space. Each printer is 100% Epson-made, including the core inkjet heads. In this regard, Epson is nearly alone in the world as a manufacturer of both label printers and their core inkjet heads, giving Epson full control over printer design and production.
Labels for Industrial Use
While food labels are a regular focus of ColorWorks printers, so are many other types of labels, including industrial labels. To this end, all ColorWorks printers meet the BS-5609 specification for GHS ("Global Harmonized System") labels, pressure-sensitive labels for chemical drums used in marine and other harsh environments.
Smark Company, a California distributor of specialty chemicals for the textile, oil, and other industries, has implemented the Epson C7510 for GHS label printing at its operations worldwide. Like Superlative Foods, Smark has a high mix of low volume print jobs and a great need for timely, precise printing from in-house digital printers. Its labels must identify very different products, such as solvents.
According to Michael Garcia, Smark's Supply Chain Manager, "We previously used laser printers to produce our labels, but we had a problem with paper jamming. Ultimately, we were wasting a lot of labels and a lot of ink. With the C7510, we're so much faster with our work. Also, the appearance of the labels is great, and the labels printed on the C7510 are more durable — a solvent can spill on a label and nothing happens to it!"
Smark's managers also praised the Epson printer for its "total cost of ownership" (cost for the printer and its supplies, over time), estimating them to be 20% lower than the costs of competing laser printers.

Epson C7510 For Chemical Drum Labels – GHS Chemical Label Sample
These Epson ColorWorks printers have thus "decentralised" color digital label printing, enabling businesses to print color labels for themselves on-site, as needed, and cutting their reliance on outside label converters. In the process, Epson ColorWorks printers have come to mostly connote "print-for-use" installations at such companies, rather than "print-for-pay" installations at label converters and other print service providers. At the same time, however, some Epson ColorWorks label systems do sometimes serve profitably in the operations of print-for-pay service providers, usually small ones. These companies must meet the print needs of many clients for small batches of color labels, whether for food products, industrial products, or something in between.
New Additions
Epson has further strengthened its product line with the recent introduction of its ColorWorks C6050 series and C6500 series. These new devices are:
C6050 Series: These 4" devices include the C6050A (auto cutter) and C6050P (auto peeler). They feature a maximum print width of 108mm and a maximum speed of 119mm/s (300×600 dpi).
C6500 Series: These 8" devices include the C6550A (auto cutter) and C6550P (auto peeler). They feature a maximum print width of 211.9mm and a maximum speed of 85 mm/s (300×600 dpi).
These on-demand label printers feature bespoke, flexible, colour labeling as well as support for a wide range of label sizes. They further extend Epson's range to meet the needs of small and medium-sized batch customers across a variety of sectors, including food, chemical, beverage, and manufacturing. In practical terms, this new series of label printers can print everything from tiny labels for vaping liquid bottles, to large durable labels for chemical drums. Additionally, a movable sensor enables printing on any shape without the need for a second die cut.
These devices also incorporate a number of technical tools to help with printer management, configuration, and maintenance. They offer high quality, high resolution, four-color print output as standard, as well as colour matching functionality for impactful on-demand colour labels. All of these printers also feature easy integration.
The Bottom Line
Superlative Foods, Smark, and thousands of other companies worldwide have selected ColorWorks products because of their utility, quality, and value. The newest introduction of the CW-C6500 series provides further evidence of Epson's strength and ongoing commitment to the needs of the market.