Emerging applications for textile printing in the 'new normal'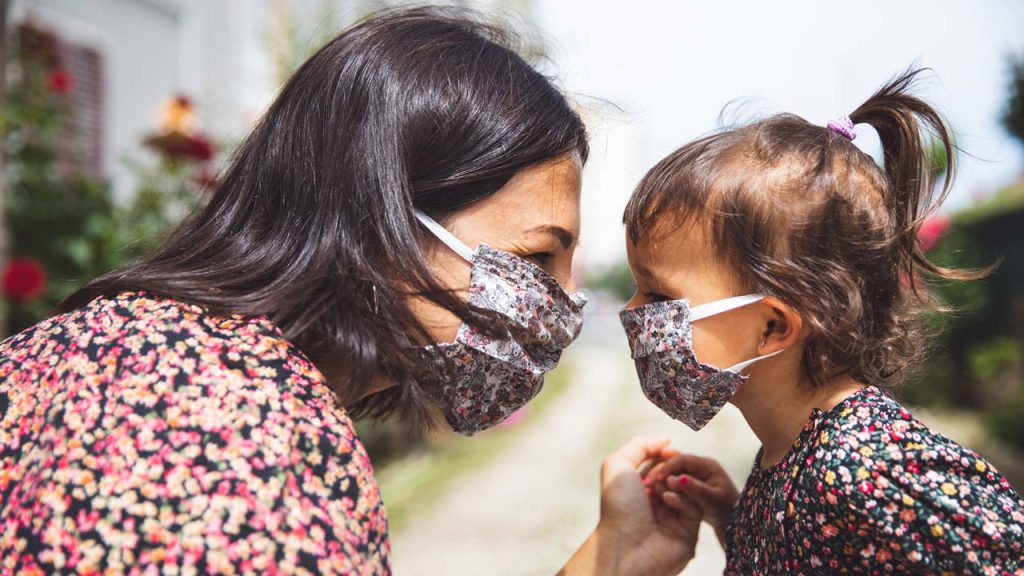 The COVID-19 pandemic continues to challenge the continuity of businesses of every size who have had to learn to navigate new normal protocols and abide by new operating guidelines. Printing operations were not spared and are, like other businesses, looking for the best road to recovery.
Fortunately, creativity is born from difficulty, and companies who are already utilizing digital textile printing have found that they can shift production easily to fill what is currently in demand.
In the fast-moving textile industry, designers and manufacturers have found it easy to pivot and quickly create what sells in the new environment with the use of digital textile printing technology.  With printing lead times drastically cut compared to analog printing, test batches can be planned in smaller quantities with shorter lead times.
Where a full cycle from design to production would take up to 8 weeks with traditional fabric printing, digital textile printing can deliver in as little as 7 days. Since printing batches can be as small as they need to be, businesses are able to optimise inventory, and stock up on in-demand items in optimum quantities.
How else did digital printing technology add value for businesses in the past six months on varying levels of lockdown?  Here are some examples:
Face Masks
With health and safety protocols dictating their mandatory use, reusable and sustainable face masks were suddenly in demand.  Face masks became a necessity when going out of the house, in the workplace, and became fast-moving consumer items.  Today, a full range can be found in the marketplace, from basic surgical masks to more creatively designed pieces that have become conversation pieces and status symbols.
Thankfully, digital textile printers like that of Epson have a solution for widely used fabric types such as polyesters. With the help where designs easily come to life.
Delivery Uniforms
As people continue to stay at home and turn to contactless food and parcel deliveries frequently, more delivery services are responding to the crisis, making rider uniforms one of the necessities in the new normal. With many brands competing in this category, details such as the rider's uniform matter when aspiring to create a standout delivery experience.
Epson's SureColor SC-F6330 dye sublimation printer can help brands create exceptional uniforms with textile inks that are internationally certified to be safe and sustainable. The SC-F6330 was developed with the latest advancements in printing technology to deliver amazing performance at affordable running costs, allowing effortless deliveries in style.
With no real minimums on each printing batch, high-quality uniforms for delivery crews can be produced in record time in the right quantities and with reduced waste­–further proving the efficiency of Epson's printing technology.
Active Wear
With mass transportation off the streets for an extended period of time, cycling came back in fashion not only a means to get where people needed to go, but also as exercise to stay in shape. Studies show that working from home allowed more people time for regular exercise.
Epson's F9430H 6-color fluorescent printing added to bike riders' road safety with its color vibrance allowing them to become more noticeable on the road whether in the day or night.
With the sudden surge in physical activity came increased demand for active wear.
Digital textile printing has allowed businesses to offer active wear in a wide variety of prints and fabrics. Never before has training gear or sports jerseys been more expressive and vibrant.
Printing ventures now have unlimited options, able to print on a range of fabrics and substrates – including dri-fit material. Anything that can be designed on a computer can be printed and transferred onto fabric. Inks and the printing process produce images that are vibrant and clear.
How can Printing Businesses Continue to Pivot with Digital Textile Printing Technology?
It all starts with the right digital textile printer. For example, both direct-to-garment (DTG) and dye sublimation printing are cost-effective digital textile printing options for small and medium size businesses.
Direct-to-garment printing is similar to using an inkjet printer to print on paper, except that you're printing right onto cotton shirts using special water-based inks that absorb into the fabric, allowing you to do small print runs at an affordable price.
For a wider variety of printing applications, dye sublimation allows one to print while controlling every part of the fabric you are printing on. This is perfect for printing on pre-cut garments and other substrates. Dye sublimation printing gives businesses the flexibility to meet customer requirements around these more complex design printing requirements without added time and cost to the business, and is perfect entrepreneurs who want to take the details of their designs up a notch over DTG printing.
Overall, today's digital printing technology allows businesses to operate more sustainably than traditional analog methods, running on less electricity, using less water, and emitting far less into the environment.
There are Epson's F-series textile printers for every business need, each powered by PrecisionCore™ printhead technology which enables fast, high quality and reliable printing.