Bringing Fine Art To Life
In the past, owning art pieces like traditional Chinese fine art can cost several thousand dollars but now with the help of Art Prints' technology, even the most beautiful piece, given no copyright issue, is easily affordable.
Epson's printers deliver high quality printing with gorgeous details, which is why fine art printing company Art Prints Singapore chose the Epson SC-P10070 to support their business.
Making fine art accessible to all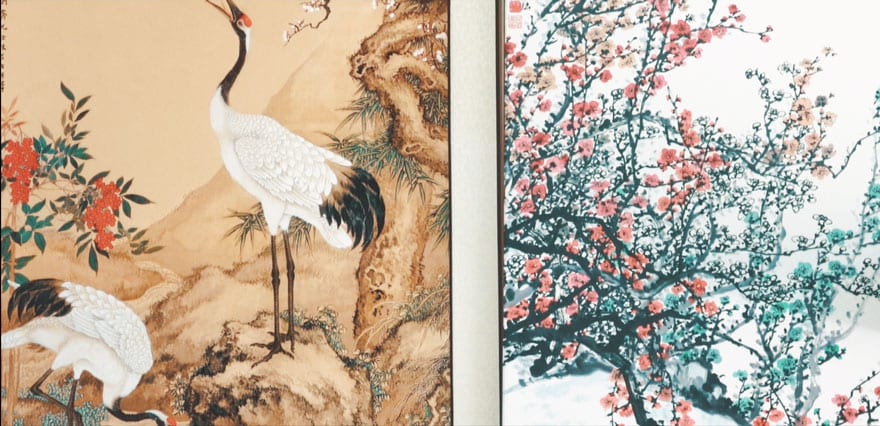 Art Prints Singapore uses high-end technology to legally replicate expensive old paintings so that people can display them in their homes. The company also prints their customers' artwork, which can be in the form of photos, graphics or text, onto scrolls or canvas to create beautiful and timeless pieces. Art Prints' mission is to bring fine art into every home in Singapore.
Using Giclée printing to reproduce fine art
Art Prints uses Giclée printing for its art work. Giclée printing is microscopic inkjet printing, using specialised pigment ink and specially coated media.  The print quality is so impressive that it looks like a real hand-painted work.
Giclée printing technology was first mainly used by museums to replicate artwork for display. Now, with the advancement of technology, production costs have gone down significantly. Today, anyone can afford their own Giclée prints.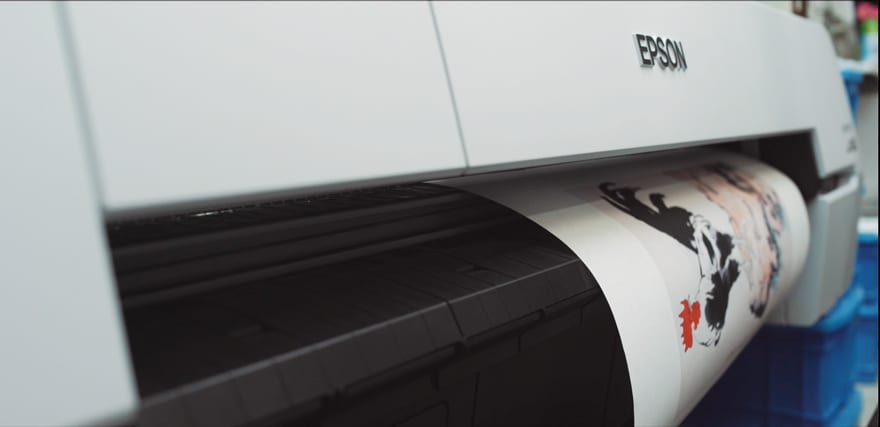 Since Giclée printing is core to Art Prints' business, they had to find an advanced printer that could meet Giclée printing's strict requirements. "After sourcing around for options in the market, we found that only Epson large-format SureColour series printers met our requirements," says John Lam, Director, Art Prints Singapore. "The SC-P10070 is the latest in the series and ticks all the boxes and more."
Fast speeds and wide colour gamut
Lam explains that the features that he liked about the Epson SC-P10070 Photo Graphic Production Printer include its high resolution, as the printer offers a maximum resolution of 2400×1200 dpi. Another important feature is the PrecisionCore MicroTFP printhead's 8000 perfectly spherical nozzles, which along with the high resolution, helps the printer deliver superior looking prints.
Lam also praises the Epson printer for its high speed. "With print speeds of up to 17.5m2/h, it takes just three minutes to make an A1 print in normal mode, making print runs extremely time efficient," Lam says.
A wide and accurate colour gamut is also important to Lam and the Epson printer delivers this to his satisfaction, providing a wide range of pre-calibrated profiles to suit different types of media.
Ideal for black and white prints
Lam is especially impressed with the Epson printer's ability to print high quality black and white artwork. "The Epson printer has four shades of black ink, which delivers smoother transitions of colours and tones, which is especially important in Giclée prints," Lam says. If a printer is unable to reproduce a wide colour gamut, this would lead to graininess in the prints. The Epson printer's wide colour gamut means it has no such problem. "The Epson printer's great capability is especially apparent in black and white portraits, with better skin tones and smooth facial contours and hairline effects," Lam says.
Art Prints also often prints black and white Chinese paintings, and the Epson printer is ideal for such artwork. "The SC-P10070 is definitely a match-made for producing Chinese paintings, because Chinese ink paintings often have different tones of black. It performs better than most other printers in this aspect," Lam says.
A look at the Epson SC-P10070's prints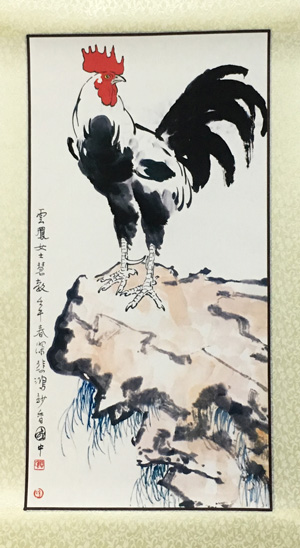 IMAGE: Xu Beihong's rooster painting
"Take a look at Xu Beihong's rooster painting," Lam says. "The painting has layered shades of black, resulting in a vivid rooster even when you look at its feet. The print resulting from the SC-P10070 didn't disappoint either – the 2D print of the rooster looks like it's ready to jump out at the viewer!"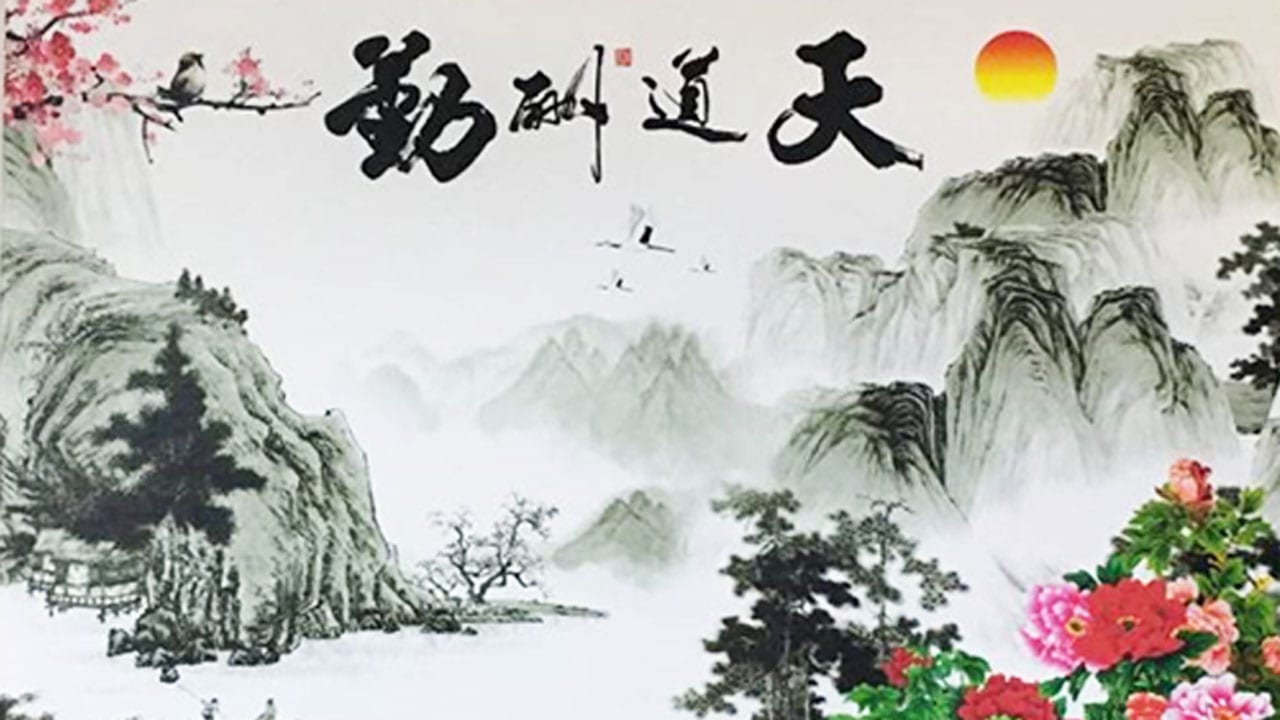 IMAGE: Chinese painting printed on canvas
"Look at this Chinese painting printed on canvas, isn't it beautiful?" Lam says. "Paintings can contain a lot of details and are very rich in gradual colour tones, so they are almost impossible to reproduce with ordinary inkjet printers. With Giclée technology and our Epson printer, this gorgeous final print is the answer!"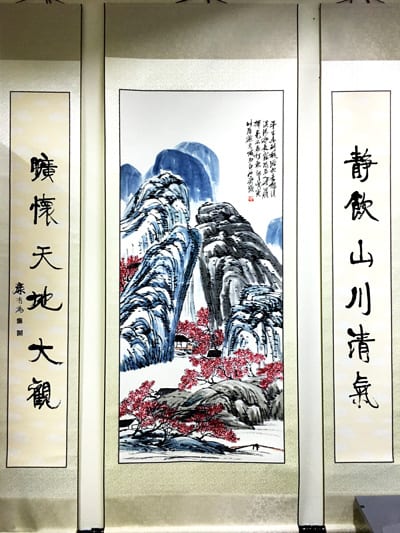 IMAGE: Qi Baishi landcape painting
"Look at this Qi Baishi landscape painting," Lam says. This is a four feet Chinese Zhong Tang scroll. Lam notes that a lot of work goes into making this a high quality reproduction. Colour adjustments on a work this big can take half an hour or more, to ensure excellent print quality and to maintain the colour tones while keeping the image as original as possible. Art Prints also used several test prints in the process of replicating this work, which was a test of the operator's technical skills.
"Of course, some printers will just print the original directly, but that is the difference between our team and other printers out there! Our hard work pays off, as when most people see this painting, they immediately ask – 'Is this an original'?" Lam says.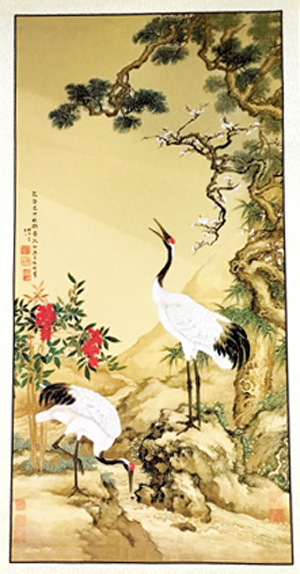 IMAGE: Pine, Plum and Cranes painting
Lam notes that this is one of China's most famous paintings, "Pine, Plum and Cranes". The painting is so detailed that one can even see the feathers on the crane. Lam explains that he wants the company's replica paintings to spread culture and heritage, and not just to copy the art.
As a result, he uses the computer to clean and renovate the original digital version of the painting, which is work that can take hours or even days, and which requires a high level of professionalism. Lam praises the Epson printer for its superior performance. "Something like this painting is a piece of cake for our Epson printer. We printed it in just a few minutes and it looks very authentic – even the cracks on the original painting were printed," says Lam.
"These canvases are all printed in-house by our Epson printer," Lam says. "The amazing quality is obvious."
A one-stop solution provider
Lam also praises Epson for the support they offer for their machines. "Epson also provides the ink, printing media, technical training, machine maintenance, and the continual R&D to improve their machines. They are the perfect go-to-choice for Giclee prints." Lam says.
The reliability of the Epson printer is also another benefit that Lam appreciates. "We have only used the Epson printer for four months, but we haven't had any problems so far. The machine fixes problems on its own, and on top of that, Epson has our warranty covered."
Using the printer was initially a bit challenging for Lam but Epson's helpful team were there to assist Lam successfully. "We found the colour profile settings a little overwhelming at first, but Epson and their partners have provided sufficient training to make sure we maximise the machine's huge potential. The support they provide when we run into problems is also prompt and helpful. They are a truly one-stop solution provider!" Lam says.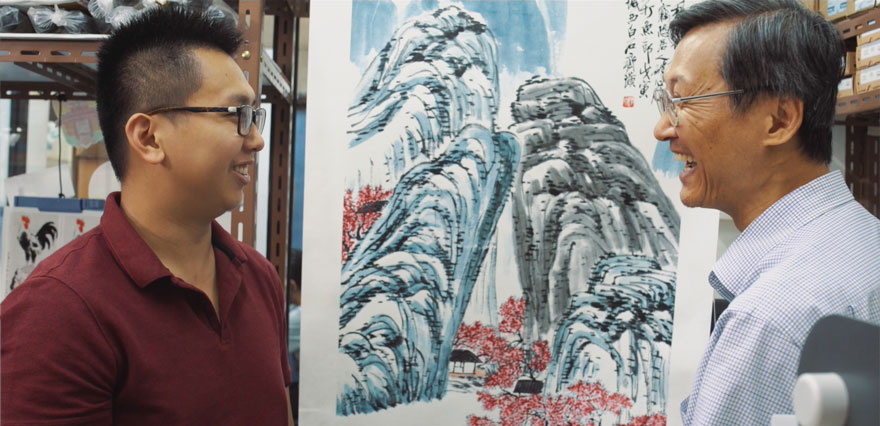 Lam says that many customers who visit their studio would point to their replica painting scrolls and ask, "Is this the real thing?" He feels that that in itself is their highest praise for his prints. Lam notes that it's the Epson printer that enables Art Prints to garner such positive compliments.
"The Giclée prints that we produce with Epson SC-P10070 often leave customers elated with the quality of the image and the vibrant colours," Lam says. "A few of our customers even commented on how they have never seen such high quality printing before."