Seeing Visual Display In A New Light
How LightScene pushes the boundaries of conventional projection.
At a time when consumers have more options and alternatives than ever, brands have to work much harder to attract and retain their customers' attention. So how else could you be engaging customers and enriching their experiences?
A good place to start for businesses in the retail, hospitality, service and F&B industries is display spaces. Breakthrough display technology now allows you to transform these spaces into more inviting, immersive and interactive environments. Epson's new LightScene accent lighting laser projectors are enabling many of the most innovative applications, unleashing new levels of creativity in digital art, spatial design and commercial signage.
The LightScene EV-100/105 projectors display imagery and information in fresh new ways by combining illumination and projection in one state-of-the-art package. This dual capability allows you to spotlight items while simultaneously projecting video from the same device. In doing so, LightScene can turn any surface into a customisable, creative canvas, transforming the customer experience.
Businesses of all sizes and sectors stand to benefit with LightScene. By showcasing your products and enhancing your spaces in innovative new ways, you can bring a new dimension to your customer engagement activities.
Enhancing and enriching customer experiences.
So how could LightScene enhance your display spaces and benefit your business? For inspiration, consider some of the applications that emerged from the recent LightScene Global Challenge. Designers from US, UK and Japan took part, leveraging LightScene's unique features and capabilities to create innovative ideas for multiple environments, such as: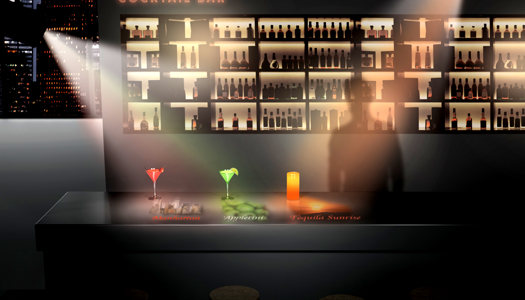 Concept 1: Surprises in the Shadows
Designed for bar venues that want to create engagement and atmosphere, this idea uses LightScene to project enticing imagery and real-time information onto a bar top. It can be used to showcase new drinks, highlight current offers or share information that kick-starts a new customer conversation.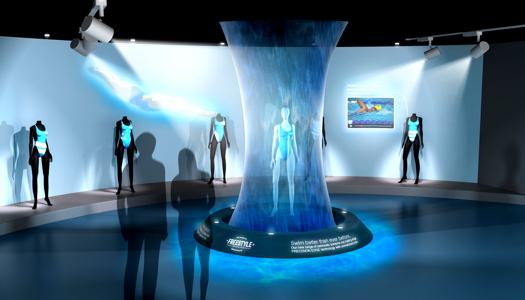 Concept 2: Immersive Waterfall
By projecting moving imagery onto a suspended fabric background and its surrounding floor area, LightScene could simulate the sensation of flowing water and transform this retail environment. The effect was to create a more immersive customer experience than traditional printed graphics ever could.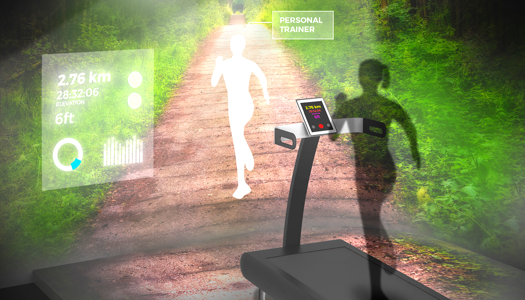 Concept 3: Running Free
Runners who miss the great outdoors will love this innovative application. LightScene projects pre-recorded video footage of running trails onto the surfaces surrounding a treadmill, immediately transporting the athlete into a range of different locations. Running data also appears as part of the display.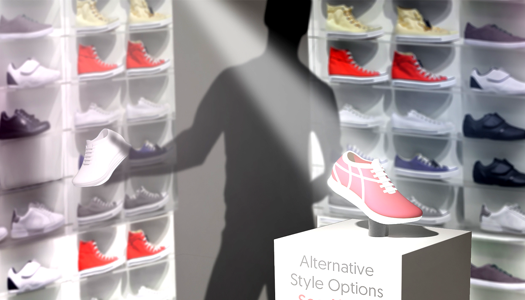 Concept 4: Retail Reimagined
Creating a bespoke brand space that's interactive and innovative just got easier. This immersive retail experience uses LightScene to project motion graphics and mapping onto surrounding walls, products and display plinths. A customer can select their preferred design on a tablet – and then see it instantly as a projection.
"Epson continues to deliver in projector innovation. The creativity that LightScene unleashes extends to multiple industry sectors, including retail, hospitality, events and entertainment and opens up new opportunities for the digital signage segment."
Ng Ngee Khiang, Regional Director, Visual Products Division
Why choose LightScene?
Here's 9 good reasons.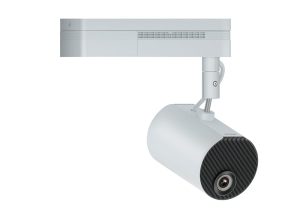 Create more inviting ambient spaces
Personalise the customer experience
Differentiate your brand perception
Customise according to seasons/events
Add an extra dimension to displays
Make more immersive spaces naturally
Tell a deeper brand or product story
Engage and entertain customers
Complement display backgrounds with a choice of black or white product models
LightScene EV-100 (White) and EV-105 (Black) 

Key Features & Benefits:
Premium spotlight design
Reduce visual noise when in interior spaces thanks to spotlight-type design.
Any surface, at any angle
Project onto products, exhibits and tables, not just floors, ceiling and walls.
Superior image quality
Enjoy 3x brighter colour reproduction and no rainbow effect with 3LCD.
Image and video playback
Run a playlist directly from an SD card.
Keep content fresh
Customise your preferred media with Epson Projector. Content Manager Swap content, alter angles and switch from vertical to horizontal effortlessly.
Easy installation and management
Enjoy easy image adjustment, content control and a choice of installation options.
Scale as you need to
Project up to 150" or combine multiple projectors with edge blending functionality.
Reliable
Get up to 20,000 hours of maintenance-free operation (or 3 years, whichever comes first) thanks to advanced laser technology.