Projectors or Flat Panels?
The benefits of Epson Laser Projectors over traditional flat panels are now indisputable. Large, easier-to-read displays, wireless projection, ultra-short throws, portability, and scalability are only a few of the many features that make Epson Laser Projectors your compact solution for brilliant projections.
These helpful infographics illustrate why Epson Laser Projectors are superior to flat panel displays. Click here to download the pdf.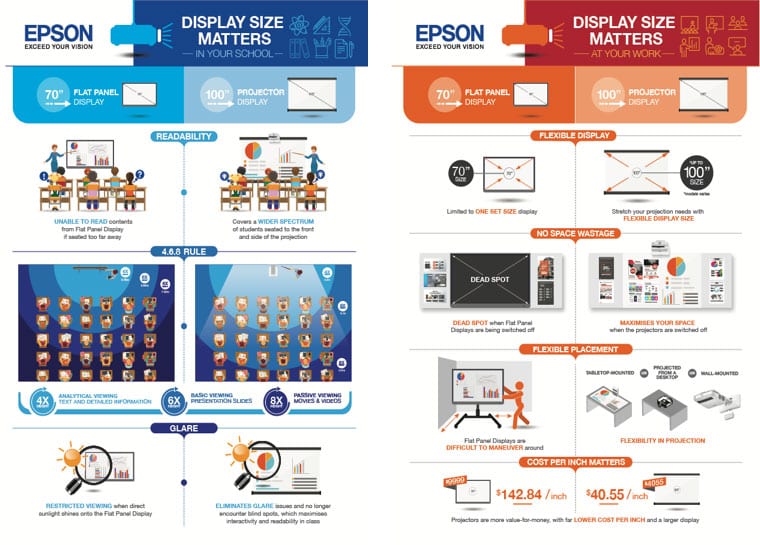 Check out the video below to find out more why display size matters.
Light, compact and powered by the newly developed optical laser diode, Epson's EB-L500/L600 series gives you a myriad of possibilities to explore.
EB-L500/L600 series
Key Features & Benefits:
Revolutionary Light Source
Inorganic LCD panels and an inorganic phosphor wheel, coupled with a dustproof design, offer up to 20,000 hours of maintenance-free filter, even with constant around-the-clock usage.  
Centre-lens Placement
The centrally placed lens makes installation a breeze as there is no need to calculate the distance between the lens and screen centre and also offers a longer throw ratio and wider lens shift for more projection flexibility.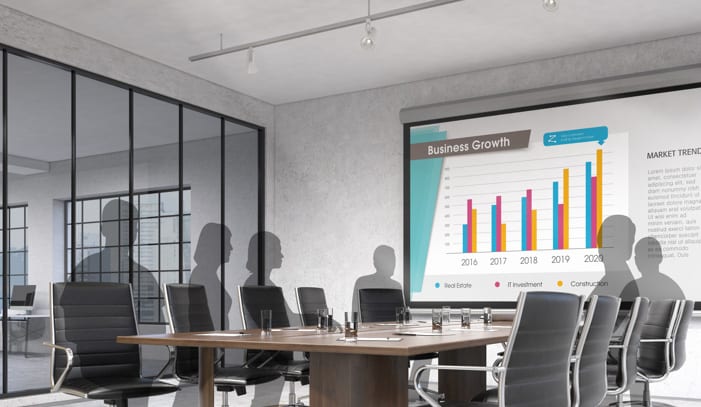 High Contrast Ratio
Boasting stunning brightness of up to 6,000 lumens and a high contrast ratio of 2,500,000:1, these projectors enable you to project beautiful, well-defined images wherever you are, regardless of ambient light.  
Bright and Compact
Approximately 2.5x brighter than conventional laser banks, the newly developed optical LD (laser diode) package helps reduce the projector's size, making the EB-L500/L600 series ideal for most offices and classrooms.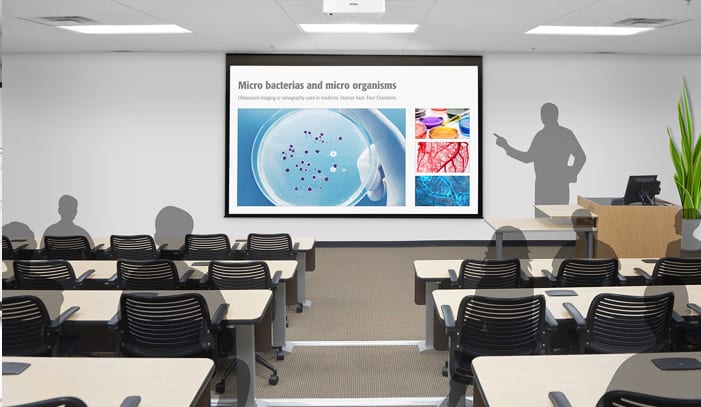 Wide Range of Connectivity
Compatible with a wide range of external devices, this series now includes HDMI and HDBaseT* ports. Ideal for large venues, HDBaseT can transmit Full HD video, audio and control at low cost through cat 5e/6 cables or higher, up to 100 metres.
* Except for EB-L500W  
Convenient Wireless Mirroring Projection**
Miracast technology enables easy wireless transmission of Full HD video and sound from PCs and smart devices, eliminating the hassle of a physical connection. With Screen mirroring*, projecting your tablet and laptop screens has never been easier.
* If the Miracast function is activated, other network features will be disabled.
** Applicable for EB-L610U only.