Eco-Considerate Visual Solutions to Suit All Needs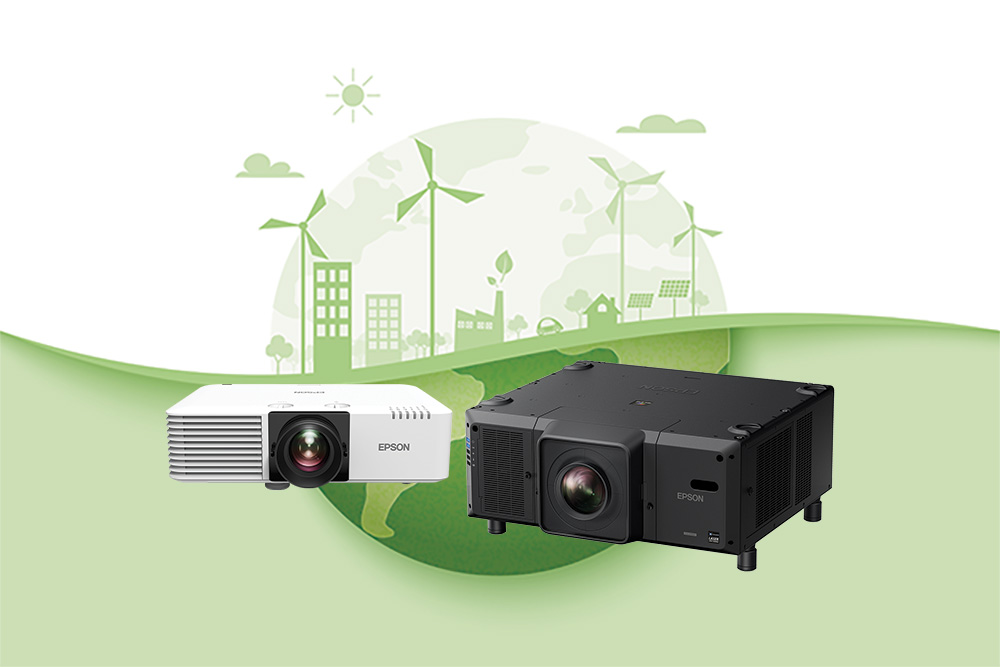 Today, we're fortunate enough to have access to technology that has reimagined how we perceive the world and consume visual information. From mobile devices capable of playing high-quality videos to large advertising billboards that can showcase visual creative work at astounding picture quality. Having access to high-quality visuals is a direct result of the evolution of technology, and with this advancement, our demands as visual consumers have also increased exponentially.
As consumers, we demand consistency when it comes to technology – there should be no distinct difference when we move between devices or environments. With this demand there has been a tremendous blurring of lines – products that we use for work, school, and play no longer live in silos of each other. Because of our exposure to high quality technology, we expect that each siloed use of visual technology is consistent.
A product that sits in between portable display devices to large format fixed displays is projectors. Traditionally, projectors were used for one simple function, to display an image or video onto a separate surface with not much thought given to the quality. In those years, it was expected that the quality of a projector wasn't held to that high of a standard – people just wanted it to function as it should.
If we look around us today, projectors are used everywhere and prized for their versatility; they can be moved between office meetings rooms, used in theme parks, museums, and home cinemas. This versatility was born out of incredible strides in technological advancement at Epson, where the ultimate goal is to deliver a projector for every possible use case scenario.
Transforming Today's Exhibition and Work Spaces
Perhaps the best use case of projectors today is in scenarios where engagement, interactivity, and innovation are key in delivering a message or an experience. The Atlantis Theme Park in Surabaya, Indonesia, is a park where customers can escape into the underwater kingdom of Atlantis – a kingdom that is highly visual and deserving of such representation. With a strong commitment from the team behind it to ensure that a vivid experience is delivered to all visitors, they looked towards the capabilities of Epson's EB-1715SNL high brightness laser projectors.
Projection in and of itself is not necessarily innovative, but video mapping is. Since 2019, the team at Atlantis Theme Park has been harnessing the power of Epson's technology and taking advantage of its mapping capabilities to provide an immersive and interactive experience in the world of Atlantis. 12 projector units map out the entire kingdom across a surface that is 60m long, 20m wide, and 20m tall – giving guests a truly larger-than-life 360-degree experience of the underwater adventure found in Atlantis.[1]
Additionally, Epson's projectors are also used across the education sector – in Singapore, the Singapore University of Technology and Design (SUTD) features over 220 Epson projectors. With their evolving needs, the university deploys a range of Epson projectors, from interactive to desktop and high-brightness projectors, finding various use cases across the university. Given that the university focuses on technology and design, it is fitting that they also use the Epson EB-695Wi interactive projector – an ultra-short-throw interactive projector. Additionally, the university was also the first in the region to have the world's first and lightest 30,000-lumen projector, the EPSON EB-L30000U. Used in the campus' main auditorium, the projector features 3LCD technology which allows for high color production. Coupled with its 4K enhancement specifications, the high expectations of today's smart consumer can be met.[2]
Moving from experiences to engagement, the workplace is where Epson projectors' versatility is evident. When used in a work environment, productivity is key, and the Epson Ultra Lifestyle projector range allows video conferencing meetings to take place seamlessly, which means less time is spent fiddling with equipment so employees can spend more time on the things that matter – simply start up the projector and start video conferencing with the Epson Online Meetings App powered by Zoom.
Besides being a driver for productivity, Epson's entire range of projectors is built with convenience and reliability in mind. The Epson 3LCD technology delivers uncompromised image quality, flexible installation, and high reliability with up to 20,000 maintenance-free hours – allowing it to be used in different environments for diverse needs.
Quality Projection Meets Sustainability
Besides its versatility, sustainability is at the heart of Epson as well as its range of laser projectors. Epson's promise to become carbon negative and underground resource free by 2050, combined with the efficient and sustainable designs of its products means that users of Epson's laser projectors can rest assured that they are using eco-considerate technology. The projectors use long-life blue lasers as a light source while paired with a durable phosphor. This means that the need to replace light sources has been obliterated, and fewer consumables are wasted. Users save time, eliminate maintenance, and save storage space. This combination results in an energy-efficient projector that can save up to 50% of power consumption as compared to other projectors.
Epson projectors are also TCO Certified and have been designed to reduce businesses' overall environmental footprint and minimise power consumption both when in use and while idle. According to life cycle assessments conducted by Epson, the current models of laser projectors conserve significantly more energy than earlier models due to their energy-efficient design and eco-friendly functions which saves electricity, even during use.
Epson projectors are also assembled using 100% renewable electricity – the projector manufacturing site in the Philippines generates power with a rooftop mega-solar power plant has switched to a mix of geothermal and hydroelectric power in January 2021. Users will no longer have to worry about the carbon footprint left behind in the manufacturing process.
Sustainability is at the heart of what Epson does – from manufacturing to the distribution of products, and finally to the design and usage of products, Epson ensures that every process is carried out in an eco-conscious manner.
All in all, Epson's projectors feature innovation and sustainability at their forefront – one that combines technological capability, versatility, and sustainability to deliver high-quality and eco-efficient results for a wide range of eco-conscious users in various settings.
[1] Epson Projectors Customer Story – Atlantis Land Theme Park (Surabaya, Indonesia), Oct 28, 2020 – https://www.youtube.com/watch?v=BrP97fm7lnw&list=PLKobqzpNDc0l8QjFLc55Lo9l7f5QRJ3hz&index=6
[2] Epson Projectors Customer Story – Singapore University of Technology and Design (SUTD). July 28, 2021 – https://www.youtube.com/watch?v=yqS4uKAbBYI&list=PLKobqzpNDc0l8QjFLc55Lo9l7f5QRJ3hz&index=1&t=115s