Driving Collaboration in Blended Classrooms and Workspaces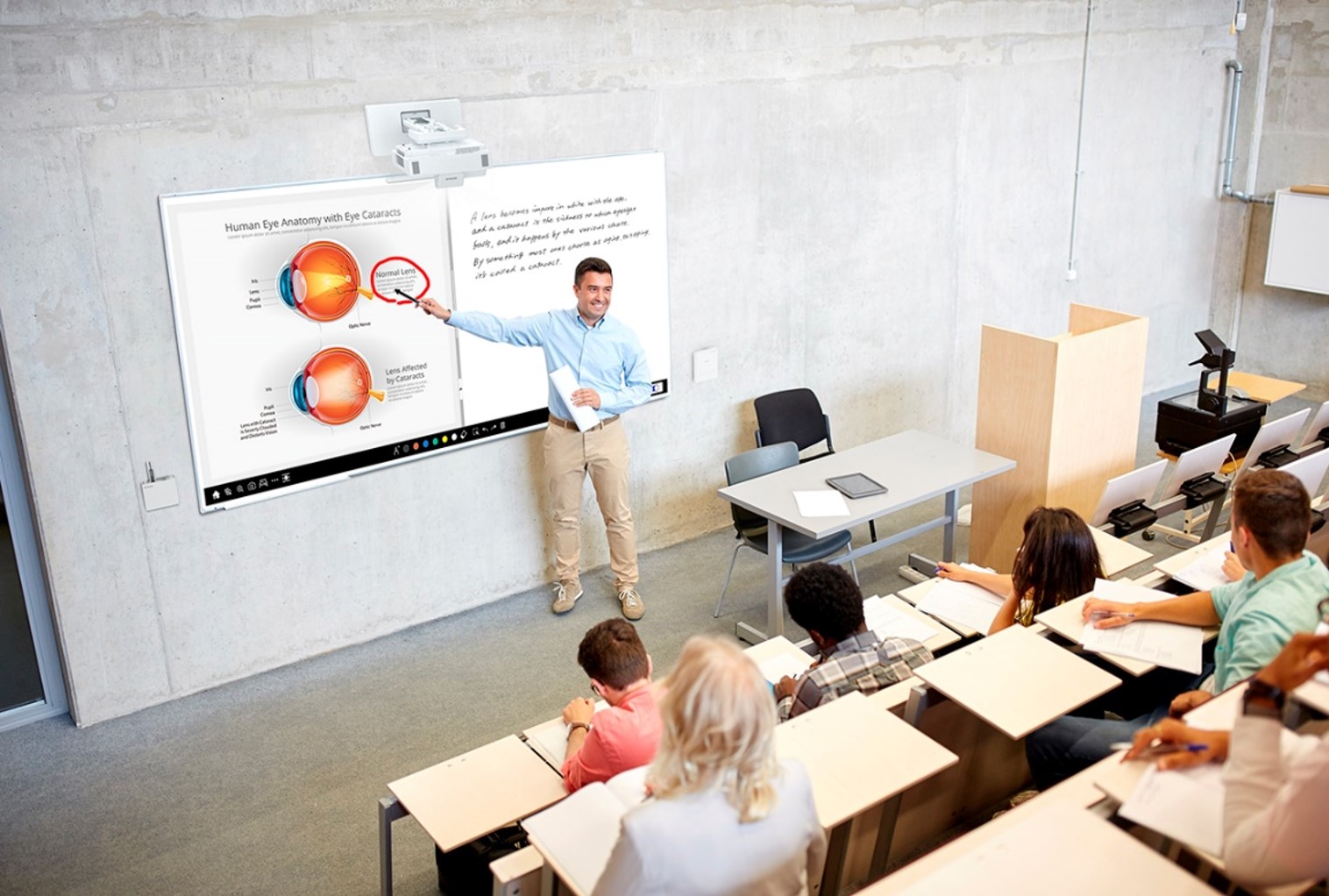 The world is adapting to a new way of doing business and learning at lightning speed. These changes build on the flexible working and e-learning trends that were developing globally over the last few years and embrace technology solutions to facilitate interaction and seamless connectivity in any environment. Companies and academic institutions are also looking to add technologies that reflect the need for social distancing in-person and hybrid gatherings with remote participants.
Meetings and classes, in which people are connected across geographical areas, and the reimagining of physical offices and schools offer numerous new methods for instructors and employees to collaborate and interact. Along with new software tools, companies and academic institutions should consider how technology hardware investments can enhance the new office and classroom frontiers. Business projectors can play an especially important role in creating the right environment.
Workplaces and classrooms of the future
The boundaries of traditional corporate and academic environments were pushed beyond people's expectations in Asia Pacific over the past year. While online learning and flexible working arrangements existed, it was not the norm in most places before 2020. Companies have demonstrated that large-scale work from home arrangements over a prolonged period was possible and people proved wrong the assumptions of company leaders and managers that employees working at home are less productive. Now, research suggests that most businesses will embrace hybrid working permanently going forward. That means companies must look at ways to optimize office spaces and revise floorplans with safety, collaboration and hybrid working in mind.
Similarly in education, most of the region relied on in-person classes from primary school through the university level, although some higher education institutions did have online learning options available before 2020. When in-person instruction was no longer an option, the results of online education were mixed across the region. The World Bank noted that in countries with less infrastructure, such as Indonesia, students found online courses difficult, due to internet access issues and a lack of familiarity with online learning environments. Many students without internet access were also unable to access lessons from home. Major adjustments will be needed by school administrators, teachers and students to create comparable virtual classroom experiences. As a result, schools at the K-12 and university levels are seeking more creative solutions and approaches to make sure students have equitable access to education and learning outcomes are improved.
Projectors facilitating the workplace and classroom interactions of the future
An important step in reimagining physical spaces and improving learning experiences is reviewing all of the technologies existing in the organization to ensure it is being utilized at its full potential. As companies create new office layouts to form workplaces of the future, meeting room optimization will also be a key consideration. New projector models with short throw capabilities are ideal for smaller spaces and cast bolder, clearer displays to improve the production quality of meetings and lessons. The latest projector models offer higher resolutions of up to WUXGA and full HD to deliver a visual impact that allows presenters to better engage their audience.
New, interactive projectors can add flexibility as well as engagement to presentations, since users can turn projections into a giant tablet by using an interactive pen or their fingers to control, annotate, draw, and rotate the image. Interactive projector models also encourage students to develop significantly greater creativity and originality, which boosts their motivation to learn. These modern projectors allow multi-location and screen collaboration with the ability to share contents wirelessly and simultaneously to students' devices. These interactive features have emerged as a crucial and successful way to sustain the attention of virtual and in-person attendees as well as integrate other technology tools.
Epson's range of short throw and ultra-short throw interactive projectors offer users exceptional image quality with advanced 3LCD technology that is gentle on the eyes while ensuring outstanding color and brightness, even in well-lit environments. Some  models feature a gesture-control function, which enables presenters to navigate between slides by moving a hand over the on-screen button, and high-quality connectivity ensure outstanding presentation experiences without compromising performance.
Many of the latest Epson projector models also offer a wide-ranging interface that corresponds with conventional analogue sources or HDMI and enables mirroring of Android mobile devices. The projector can connect up to 50 sources from a single projector using the multi-PC projection function. Meeting hosts can also simultaneously project select media from up to four sources and maintain control over what is on screen. Teachers and presenters can also run split screen functions without the need for a second projector. Additionally, IT staff can use Epson Projector Management software to program the projectors to automatically turn on and off at fixed times to reduce power consumption.
As companies and academic institutions rethink how they will operate in the new normal, deploying the right technology will be critical to ensuring the success of their setup. New business projector models allow companies and academic institutions to combine technology investments in one solution to vastly improve experiences in virtual and hybrid meeting rooms.