Bridging the Gap; Projectors that Enable Children to Learn Better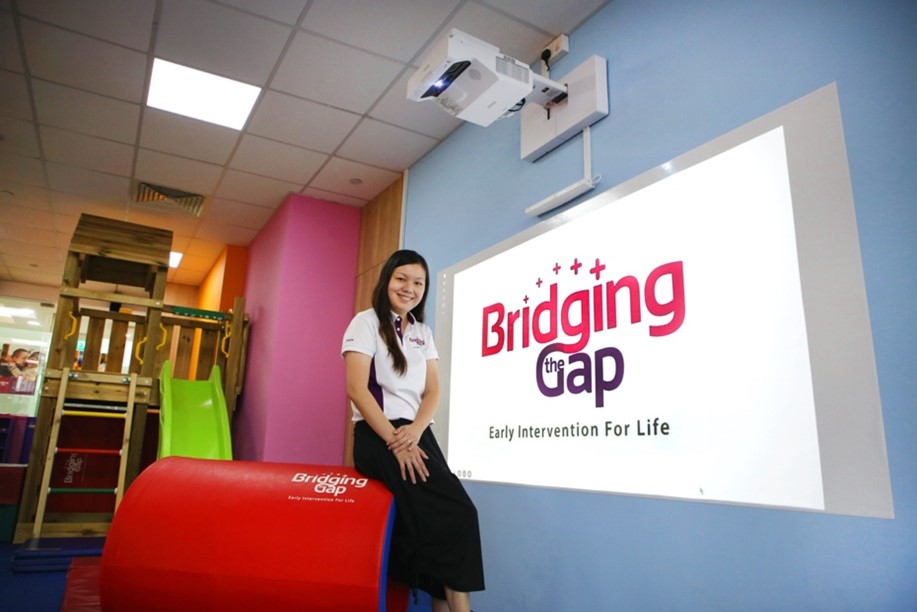 Parenting a kid can be one of life's most fulfilling experiences. As you journey through the different childhood phases with your child, you inevitably embark on a personal growth journey as well. For most kids, childhood is a period in which they are generally happy, energetic and exceptionally curious.
However, tasks that should be rudimentary for most kids, some children with developmental needs find challenging. For instance, it takes longer for 7-year-olds with developmental needs to find the right shape to fit into a hole as they need to exert twice as much mental energy to analyse the situation before coming to a decision. In social settings like playgrounds or school yards, it takes these same kids extra effort to connect and warm up to other children.
Janice Tay, Founder and Clinical Director of Bridging the Gap (Early Intervention For Life). Having experienced what it is like to have a child with special needs who struggles in mainstream environments, Janice definitely knows a thing or two about children with developmental needs.
"Children with developmental delays have different levels of engagement. In a class of specially-abled children, some may have shorter attention spans than the others. Therefore, making use of the traditional learning resources and materials may not be suitable for all."
Bridging the Gap offers a host of integrated intervention programmes such as School Readiness, Child Speech & Language Therapy, Occupational Therapy, Educational Therapy, Social Skills Training, Behavioural management and Multi-Sensorial Activities. These customised intervention programmes provide holistic learning in a safe and nurturing environment.
"Some of the lessons cannot be taught by merely using concrete and visual manipulatives. Although our materials are multi-sensorial, our children require real life experiences to help them learn and retain the knowledge. Showing videos on tablets or laptops and even role-playing are great, but there is still room to further enrich their learning experience".
Here is where Epson's inventive range of business projectors fit in perfectly; bringing a whole new level of dynamism into the learning experience of these children with developmental needs. Epson projectors are capable of projecting bright, easy-to-read images from nearly anywhere in the classroom with virtually no glare or shadow interference, hence the children can be moving around and still get an unflawed view of what is being presented. It also makes learning for these children much more fun and engaging as presentations, videos and online platforms used to deliver the lessons vividly burst into life.
Some models even enable users to enjoy the use of a PC-free digital whiteboard. This allows them to draw directly onto projections as well as share information to other devices instantaneously. These drawings can also be easily saved, printed, and emailed; all without the use of a computer as well.
All Epson projectors are carefully designed with consumer ease of use in mind, hence most are virtually maintenance-free with lamps for light source not needing replacement for up to 20,000 hours. They also come with built-in wireless capabilities for added convenience. Besides, the ones with PC-less interactivity enables educators direct control of the information shown; information that is delivered on a crisp Full-HD laser display. This allows them to make reactive changes to lessons on the spot, thus further enriching the learning experience of the children.
Epson's 'Exceed Your Vision' motto is all about bringing change to the world of their consumers. As for Bridging the Gap, the successful integration of Epson projectors into their classrooms has led to a paradigm shift in the way lessons are delivered. It has enhanced the levels of interaction between teachers and students and this has led to significant improvements in lesson retention amongst the children. Moving forward, the centre aims to further digitalise their capabilities in the next couple of years in order to reach more children beyond the walls of their centre; improving the learning experience for all children in Singapore via innovative learning solutions made possible by Epson.