Epson Research Reveals Singaporeans Swing To Action And Call on Companies To Do More As Optimism in Averting Climate Disaster Declines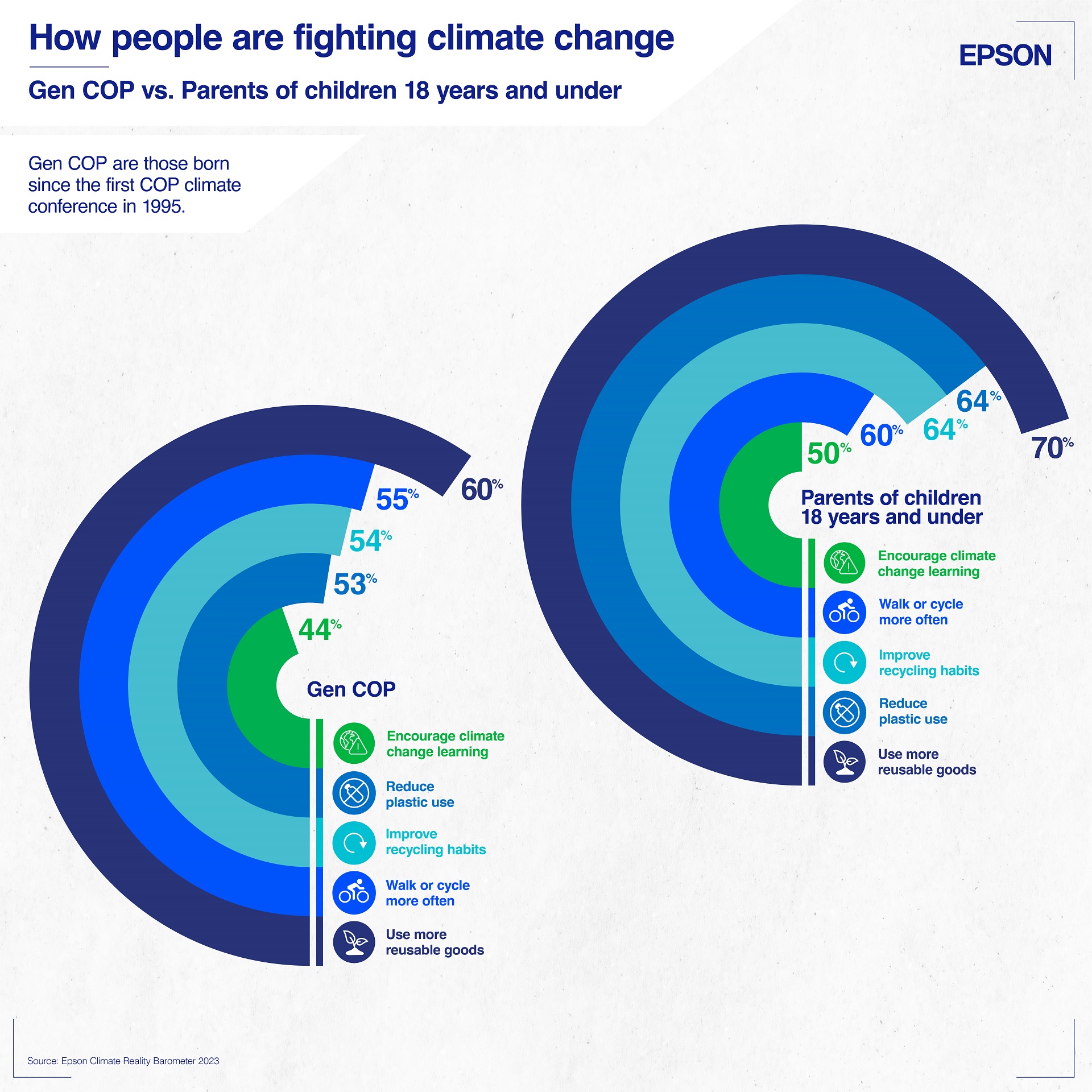 Survey finds that people view climate change and inflation as twin threats
Singapore, 12 October 2023 – Amidst the headline-grabbing temperatures and soaring inflation, Singaporeans are feeling rightfully disheartened with the state of things as Epson's latest Climate Reality Barometer 2023 survey found.
According to the online survey of 504 respondents aged over 16, less than half of them (41.3%) were optimistic of averting a climate disaster, a number that's declined 3.5% from a year ago, and is well below the current global average of 47%.
Among the other issues facing the world, Singaporeans cited rising prices as a key issue. In fact, it was a top issue for 64.8% survey respondents, ahead of climate change (60.3%) and public health (28.8%).
A deep dive into sustainable behaviours
As a country that is vulnerable to adverse effects of climate change, Singaporeans' lack of optimism in the climate comes as the country witnessed a 40-year record high in temperatures in May 2023.
In response, people in Singapore report taking the following top actions: reducing plastic use (68.6%), walking or cycling more often (67.6%), and using more reusable solutions (66.7%). As for future actions, about 3 in 5 Singaporeans plan to switch to renewable energy (61.2%) and nearly half are looking at electric vehicles (49.6% as alternatives). This enthusiasm for environment-friendly electric vehicles is in line with Singapore Green Plan 2030 where the city state sets ambitious goals to convert both private and public transport infrastructure to support electric vehicles adoption. On the other hand, more than 2 in 5 Singaporeans (21.8%) expressed that they could not reduce international travel for business and leisure purposes.
The role of companies in mitigating climate risks
Nearly 1 in 2 working Singaporeans (47.4%) are looking towards their workplace to improve their sustainability strategies. This includes improving recycling and reuse products (42.2%), investing in environmental technologies (38.5%) and reducing reliance on natural resources, such as water and fossil fuels, in production and transport (27%).
"To avert a climate disaster, governments, corporations and individuals must come together to do their part. As a technology leader, Epson is constantly looking at ways to innovate and develop sustainable solutions and processes to help our customers reduce their environmental impact.
Since we launched EcoTank 13 years ago, we have successfully avoided more than half a million tons of CO2 emissions1 ," said Derek Tan, Head of Sales and Marketing, Epson Singapore.
"At Epson, our goal is to become carbon negative and underground resource free by 2050 – and I'm happy to share that we've already made strides by switching to 100% renewable electricity last year at all major Epson sites in Japan. In Southeast Asia, our factory in the Philippines and Indonesia have also completed the transition in 2022. We are now working to do the same at all Epson Group sites around the world by 2023." Derek added.
– END –
Research Methodology
An online survey was conducted by Censuswide on 13 July 2023 to 21 July 2023 among 504 general respondents aged 16+ (weighted by age) in Singapore. In total, the Epson Climate Reality Barometer 2023 surveyed 30,294 consumers across 39 markets worldwide over a period from 13 July 2023 to 25 July 2023. Censuswide abides by and employs members of the Market Research Society and follows the MRS code of conduct which is based on the ESOMAR principles.
About Epson
Epson is a global technology leader whose philosophy of efficient, compact and precise innovation enriches lives and helps create a better world. The company is focused on solving societal issues through innovations in home and office printing, commercial and industrial printing, manufacturing, visual and lifestyle. Epson's goal is to become carbon negative and eliminate use of exhaustible underground resources such as oil and metal by 2050. Led by the Japan-based Seiko Epson Corporation, the worldwide Epson Group generates annual sales of more than JPY 1 trillion. Visit corporate.epson/en/ for more information.
About Epson Singapore
Since 1982, Epson has developed a strong presence across major markets in Southeast Asia and South Asia. Led by the regional headquarters Epson Singapore, Epson's business in Southeast Asia spans an extensive network of 11 countries with a comprehensive infrastructure of close to 500 service outlets, 7 manufacturing facilities and 6 Epson solution centres. Visit: http://www.epson.com.sg for more information.
---
1The size of the avoidance in consumables CO2 emissions was calculated by comparing the cumulative number of ink bottles sold up to February 2023 with the number of ink cartridges required to print the same amount and converting their weight into a CO2 equivalent. CO2 emissions were calculated based on Epson's evaluation conditions, which take into account the impacts from consumables materials and parts manufacturing. Actual CO2 emissions will vary depending on customer printer use.